What Foods Can Reduce Creatinine Level
2014-12-29 02:37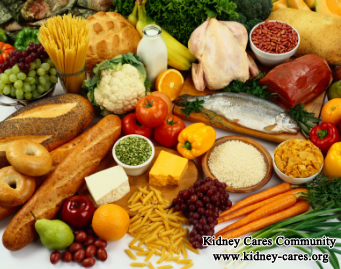 What foods can reduce high creatinine level? Some people find out that their creatinine level is high when they take physical examination or tests for kidney function. However, they are not familiar with creatinine, so they will have lots of doubts. For example, what causes elevated creatinine level? what foods can reduce creatinine level?
Creatinine is a metabolic product of your muscle activity. Normally, as long as your kidneys are healthy, creatinine will flow through with urine and high creatinine level does not appear. If creatinine level elevation occurs in several tests, you should think about that if it is caused by damaged kidney function. Elevated creatinine level can be a symptom of kidney disease. Diet can lower high creatinine level to some extent, but it is impossible to lower it from the root. Because if you want to lower creatinine level from the root, you should repair damaged kidneys and recover kidney function. Only in this way can high creatinine level be lowered. Well, what is the diet for high creatinine level?
1. sodium limitation
It is necessary for kidney disease patients to restrict your salt intake according to your blood pressure and swelling.
2. low fat intake
Foods with high fat should be avoided as high fat consumption will lead to hyperlipidaemia. This will cause further kidney damage.
3. vitamin intake
Kidney failure patients with high creatinine level should choose foods with rich vitamin A, vitamin B2 and vitamin C.
4. protein supply
To stop the deterioration of kidney function, patient should control protein intake and choose high quality protein foods like lean meat, egg whites and milk. Do not eat bean products and other plant protein.
5. low phosphorus diet
The purpose of low phosphorus intake is to prevent the occurrence of hypocalcemia.
Once high creatinine occurs, you should make a definite diagnosis in the hospital. If it is caused by kidney disease, you should take correct treatment to repair injured kidneys and recover renal function. Only in this way can high creatinine level be lowered.