Does Medicines for Hypertension Cause Increase of Creatinine Levels
2014-12-14 08:42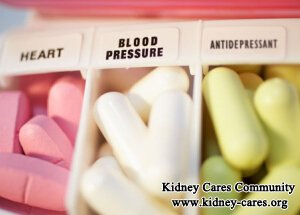 Some people complain that after eating hypertensive drugs, their creatinine level begins to increases. Does medicines for hypertension cause increase of creatinine levels? For more information about this topic, go on reading.
Medicines for hypertension
There are variety of medicines for high blood pressure. For example,
-Diuretics help your body flush out sodium and fluid from the blood, which aids in lowering blood pressure.
-ACEI blocks the angiotensin-converting enzyme needed to form a substance that narrows blood vessels. This allows your blood vessels to relax and wider, making it easier for blood to flow, which reduces blood pressure. Besides, it can also help the elimination of water and sodium so as to lower blood pressure.
-ARBs lowers your blood pressure by blocking the actions of angiotensin II. And it works like ACEI.
-Calcium channel blockers lower your blood pressure by blocking the effects of calcium on your blood vessels.
What causes your creatinine level to increase?
Hypertension for years makes the blood vessels fragile, so that protein and red blood vessels that should be kept in the blood vessels leak into the urine. This will impair the filtration system of kidneys, leading to kidney failure. When your kidney function is less than 50%, creatinine level increases.
Diuretics may make too much fluid flow out of your body, leading to dehydration so that less blood flows into the kidneys. And then less creatinine is filtered out. In this case, your creatinine level increases.
Besides, ACEI can lower the inner pressure of glomeruli so that less flow into the kidneys and then serum creatinine level increases.
Therefore, when you have raised creatinine levels, you had better talk with your doctor to find out what causes the increase of creatinine levels and then take treatment as early as possible.
High creatinine levels should be attached importance, because it may indicate severe kidney damage. With the help of online doctor, you can learn more corresponding information.