Is There A Connection Between High Protein And High Creatinine Level
2014-12-13 08:44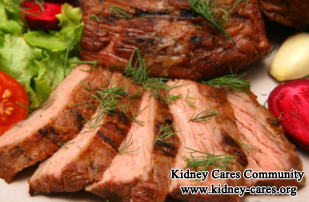 Does a high protein diet contribute to higher levels of creatinine? We know diet plays an important role in our human health. High creatinine level scares many people as it is usually a kidney problem. They want to make sure that if creatinine level is caused by improper diet or kidney disease.
Creatinine is a breakdown product of creatine, which is an important constituent of muscle. Thus, creatinine is a waste product of muscle or protein metabolism and cannot be used by cells for any constructive purpose. It is removed from the body entirely by the kidneys and its level is a reflection of the body's muscle mass or the amount of protein in the diet. Generally, creatinine levels will not vary with a normal diet. however, high creatinine can be found in high protein diets, which may be 10-30% higher in people who eat a diet that is high in meat. High protein intake can promote muscle growth. When more protein is metabolized by the body, creatinine secretion will rise. Healthy kidneys can filter creatinine from the body while unhealthy kidneys fail to filter excess creatinine from the body, resulting in its accumulation in the blood stream in high quantities. If a high protein intake has occurred without other symptoms, then raised creatinine levels should not be a great cause for concern.
In some cases, high creatinine levels can be seen in kidney disease due to the fact that a damaged kidney will not remove creatinine from the body as it should. Also, some drugs that could impair kidney filtration is also able to elevate creatinine level. Finally, high levels of creatinine could also be seen with muscle degeneration or a creatine supplementation.
High protein diet is one cause of high creatinine levels. Healthy kidneys can normalize this level efficiently. If your elevated creatinine level last for a long time, you should be concerned and take medical treatment for repairing your injured kidneys and improving renal function.
Any question or doubt, please feel free to consult our online doctor or leave us a message to kidneycares@hotmail.com. We will try our best to help you.