Are Creatinine Supposed To Go To Normal After Dialysis
2014-12-07 07:45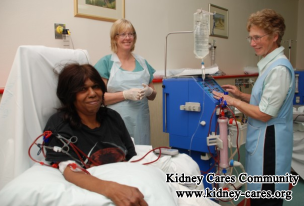 High creatinine level can be lowered by dialysis. Normally creatinine level will go back to normal after dialysis. However, in some cases, creatinine level is still high after dialysis. What is the reason and what is the radical therapy for elevated creatinine level?
Why creatinine is still high after dialysis?
Creatinine should be filtered out of the body by the kidneys freely. The kidneys have strong compensatory ability. In this condition, creatinine is not high until half of kidney function has been damaged. Thereby, normal range creatinine level do not make sure that kidneys have not been damaged. When creatinine level is extremely high, kidney function has been damaged severely. Dialysis is recommended to lower high creatinine level. But dialysis is not a cure for improving renal function. It can only help remove wastes from body but do nothing for kidney function. The longer of dialysis time is, the lower kidney function is. Declined kidney function is one reason of high creatinine level after dialysis. In addition, if lysis is inadequate, it can also lead to high creatinine level.
How to control creatinine level in normal range permanently?
To lower high creatinine level, we need to improve the function of the native kidneys. If the impaired kidney structure can be repaired, the kidney function will have an good improvement. In this way, more metabolic wastes will be removed from blood by kidneys and high creatinine level will be lowered gradually in dialysis patients. More importantly, it is possible for people to avoid dialysis with improved renal function.