How to Eat with High Serum Creatinine Level
2014-12-04 05:33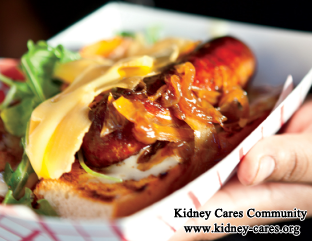 How to eat with high serum creatinine level? High creatinine level in blood is really a concern for Chronic Kidney Disease patients, because if they do not bring it under control, they will definietely need dialysis in near future. A scientific diet also contributes to the tight control of serum creatinine, so knowing how to eat is very important for CKD patients whose serum creatinine level is high.
Dietary guidelines for high creatinine level patients
High serum creatinine level signifies kidney problem in medicine, because kidney is responsible to remove excess creatinine out of the body. Elevation of serum creatinine level means kidneys can not cleanse blood well. Under such a condition, not only creatinine, but also many other wastes like urea nitrogen build up in blood. Therefore, foods patients eat must be able to meet two conditions:
* Foods they eat must be good for kidney
* Foods they eat will not produce too much creatinine
Based on this, high serum creatinine patients need to be careful about the following foods:
1. Salted foods
Salted foods should be avoided by people with high serum creatinine level, because salt is rich in sodium. High sodium intake will worsen kidney condition, which can lead to further elevation of serum creatinine level.
2. High protein foods
Protein is needed for a healthy body, and to meet the demand of physical development and mental development, we usually need to ingest much more protein. However, for people with high creatinine level in blood, they need to limite protein intake by eating less high quality protein, because high protein intake will increase kidney burden and aggravate proteinuria. How much protein is needed depends on exact illness condition. Here you can consult our online doctor to get individual advice about protein intake.
3. Foods with high quality protein
Foosds with high quality protein like egg white, lean meat, fish and milk are recommended for patients with high serum creatinine level. According to clinical studies, about 60% of the protein eaten by kidney disease patients should be high quality protein.
4. High potassium foods
In general, people with high serum creatinine level also need to be careful about high potassium foods like banana, spinach, kiwi, apricots, artichoke, turnip, etc. and this is because they are very likely to develop hyperkalemia which is very harmful for heart.
As diet plan is different from case to case, so here we only give several dietary principles. If you want to have personalized diet plan, you can ask our online doctor for help.