Is There Any Relationship Between High Creatinine And Kidney Disease
2014-11-21 08:02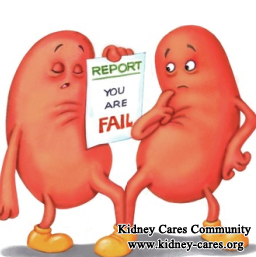 What is the relationship between high creatinine level and kidney disease? As long as creatinine level is higher than the normal range, it is called high creatinine level. Generally, it refers to serum creatinine. When serum creatinine level is over 133umol/L, it means kidneys have been damaged. Well, what is the relationship between high creatinine and kidney disease? See the following explanation.
Creatinine is the external manifestation of kidney damage. When kidney intrinsic cells are damaged, normal metabolic function is affected. Thus, creatinine and other toxins will accumulate in the body, leading to high creatinine level. Therefore, different creatinine level refers to the severity of the disease. Kidney disease is divided into different stages according to the creatinine values:
1. Renal insufficiency compensatory period
Serum creatinine is between 133-177umol/L. At this time, kidney function has a slight decline but its ability to discharge metabolic products and keep balance of water and electrolytes can still meet the normal need.
2. Renal insufficiency decompensated period
Serum creatinine is between 177-442umol/L. Many parts of glomerular has become sclerosis and about 65%-75% of glomerular is damaged. At this time, metabolic wastes of kidneys have some problem, thus serum creatinine level will rise. If patients experience hemorrhage, water loss and infection, medical conditions will be aggravated. Patients will have weight loss, fatigue, difficulty concentration, anemia, and other symptoms.
3. Kidney failure period
Serum creatinine is between 443-707umol/L. Glomerular sclerosis occurs and it causes serious kidney function. People at this condition will suffer from frequent urination at night, anemia, serum creatinine, blood urea nitrogen elevation and acidosis.
4. Renal insufficiency or end-stage uremia period
Serum creatinine level is higher than 707umol/L. The injury of glomerular is more than 95% and patients will have discomforts like vomiting, nausea, swelling, less urine, serious anemia, urine taste in your mouth.
From the above, we can see creatinine is higher than 133umol/L, timely treatment is required. Otherwise, kidneys will have great damage. Only medications can not lower high creatinine level from the root and sometimes medical conditions can be worsened. In our hospital, we have natural Micro-Chinese Medicine Osmotherapy to decrease high creatinine level fundamentally. For more information, you can consult our online doctor directly.