What Is the Diet for High Creatinine Level
2014-11-15 07:02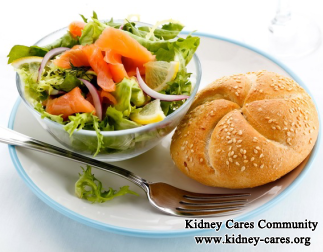 What is the diet for high creatinine level in blood? High serum creatinine level is an illness condition which usually indicates kidney problem in medicine. A well-planed diet is necessary when creatinine level in blood becomes higher, because improper diet will cause further elevation. Well, what is the diet plan for high creatinine level?
High creatinine level signifies kidney problem, so foods arranged in our daily diet must be good for kidney. On the basis of this, diet for high creatinine patients should be arranged as follow:
1. Low salt
Low salt intake is necessary because salt is rich in sodium, too much of which in blood will trigger high blood pressure. Besides, high creatinine patients are likely to experience swelling which appears easily in eyelid, face, ankle and hands. High salt intake can worsen this condition, so low salt is necessary.
2. High quality protein and low protein intake
Protein can be found everywhere of our body. It plays an important role for physical development and mental development. For high creatinine level patients, they need to limit protein intake because ingesting too much protein will increase kidney burden. Additional, high quality protein is recommended, because it can be fully consumed. In our daily diet, high quality protein can be found in lean meat, milk, fish and egg white.
3. Proper potassium intake
Elevation of serum creatinine level is a result of kidney damage. Under such a condition, patients are very likely to suffer from hyperkalemia which is very harmful for our heart. Therefore, paying attention to potassium intake is very important for high creatinine patients.
4. Fluid intake
Fluid intake should be limited if there is swelling. How much water intake is needed depends on their specific illness condition. (You can consult our online doctor about individual advice)
Lastly, since high creatinine level is resulted from impairment of kidney function, so only when kidney damages are repaired and kidney function is increased, can high creatinine level be lowered down successfully.