Is Creatinine 3.5 Life Threatening
2014-11-13 08:57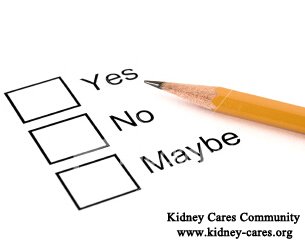 For kidney patients, they may know that raised creatinine level indicates that their kidney function declines. But sometimes patients do not have a clear mind about their medical condition. Is creatinine 3.5 life threatening?
What does creatinine 3.5 mean?
In the medical test report such as urine test and blood test, there are a lot of indicators about kidney function, one of which is creatinine level. Creatinine is the waste product of muscle contraction and a small part of creatinine is from the meat you eat. When your kidneys are healthy, they can remove the excess creatinine from the blood. When you are still in the early stage of kidney disease, the kidneys can manage to normalize creatinine level, because our kidneys have immense compensation function. That is also why people with only one kidney have a normal creatinine level. When more than 50 % kidney function loses, creatinine level increases quickly. Creatinine 3.5 is almost three times the normal level (0.5-1.2 mg/dL). It means you have less than 50 % kidney function. With creatinine 3.5, you may have swelling in legs and ankles, nausea, foamy urine, and some other symptoms. Without timely and effective treatment, these symptoms may become worse. And some other complications may occur, such as heart failure, which is life threatening. However, creatinine 3.5 is not life threatening through proper treatment.
What can you do to reduce creatinine 3.5?
-Limit the intake of meat
In the diet, you should reduce meat and increase vegetables and fruits intake. But it does not mean you should avoid meat. Because meat is also a source of essential amino acids, which are important for our body to maintain the normal function.
-Strike a proper balance between exercise and rest
Exercise increases muscle contraction so as to raise creatinine level. But you can do some gentle exercise like walking and jogging.
-Repair the damaged kidneys and improve kidney function
TCM therapies are a good choice for you to repair the damaged kidneys and improve kidney function. Because some of them can detoxify your blood, speed up blood circulation and remove stasis to improve blood circulation in the kidneys. Some of them can combine with these inflammatory factors, split them and remove them from the blood so as to eliminate kidney inflammation. Some can speed up kidney recovery by supplementing nutrients and degrading extracellular matrix.
Is creatinine 3.5 life threatening? Of course not. If you still have any question, please feel free to contact us at kidneycares@hotmail.com.