What Happens to the Kidney When One Is on Dialysis
2014-11-10 06:12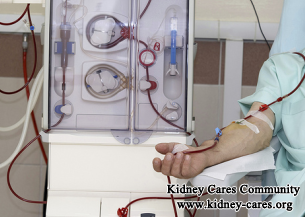 What happens to the kidney when one is on dialysis? Kidneys help to filter blood and remove waste, excess fluid and toxins from our body, so when kidneys fail, we need a life-saving treatment to replace their job. That is the reason why medical treatment is required by people with kidney problem. Dialysis is the most commonly used life-sustaining method for kidney failure patients. It is a way to live longer with kidney failure, but unfortunately, it always causes many terrible side effects. Well, what happens on earth to the kidney when one is on dialysis?
Kidney dialysis is a life-support treatment that can replace failed kidneys to purify blood with a special machine outside the body. For one with kidney failure, if he refuses to do dialysis, toxins that should be removed by kidney will build up in blood, which is a very dangerous condition for internal organs. Thus, dialysis is a must for these with completely failed kidneys. Of course, they can get off dialysis if they can find a matched kidney to do kidney transplant.
While taking dialysis, blood is made out of the body and then they flow into a special machine where clean blood and harmful substances are separated. Cleaned blood is finally transfused back to the body through a tube and harmful substances are left outside. In this way, blood inside the body is purified. Besides, as dialysis only helps to cleanse blood, so injured kidney tissues can not be repaired after it. For this reason, regular dialysis is needed by kidney failure patients.
Kidney is a filter of our body, but besides it, it also plays the role of regulating blood pressure, maintaining electrolyte balance and secreting necessary hormone. Dialysis helps to purify blood, but the machine has no secretion function and also it can not normalize electrolyte disturbance, so it is not a real solution for people with kidney failure.
Also, kidneys filter blood day and night, but for one who is on dialysis, his blood is purified in several hours, which can result in maladjustment of his body and thus cause a series of physical discomforts like headache, nausea, tiredness, dizziness, sleep problem, etc. In some cases, as all the blood is filtered with a special machine outside the body, there is less bloodstream in kidney, which can lead to decreased urine output.
Lastly, kidney dialysis is a life-sustaining method, but it is not the only way. If you are interested in alternative for kidney dialysis, please leave us message below. Our nephrologist will contact you in 24 hours to give you details about it.