What Can We Do to Lower High Creatinine
2014-11-09 05:28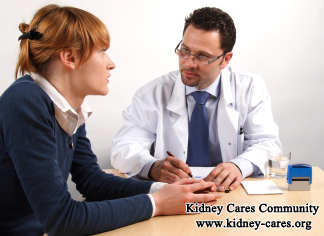 What can we do to lower high creatinine level in blood? Persistent high creatinine level is very dangerous condition and if we do not take any measures, our life will be deprived. Well, what can we do to lower high creatinine level?
What are the bad effects of high creatinine level?
High creatinine level is dangerous because it indicates serious kidney damages and high levels of toxins in blood. Under such a condition, if no effective treatment is given to increase kidney condition or clear toxins away from blood, internal organs like hear will be damaged.
For people with high creatinine level in blood, they are at high risk for complications like heart failure, stroke, gastrointestinal discomforts, skin problems, bone problem and nerve problems. Cardiovascular disease is the leading cause of death for kidney failure patients.
What can we do to lower high creatinine?
Creatinine build up in blood when kidneys fail to remove them out of the body, so what we can do must be able to improve kidney condition. Only in this way, can serum creatinine level be kept in normal range permanently. Generally speaking, to achieve this goal, we need to do as follow:
1. Firstly, control blood pressure in normal range. This will help to protect residual kidney tissues from being damage.
2. Secondly, find out the real cause of kidney damages and then remove it. Kidney works through different kidney tissues and when they fail to work properly, kidney function declines and consequently, creatinine build up in blood and serum creatinine level increases. Therefore, find out the real cause of kidney damages is very important for stopping the further decline of kidney function. (You can ask our online doctor to help you figure out the real cause and then get some free individual advice)
3. Thirdly, repair injured kidney tissues to strengthen kidney. Creatinine can not be removed out of the body successfully because of impaired kidney function. Therefore, only when kidney function is increased, can excess creatinine be removed out of the body timely.
4. Fourthly, make sure foods you eat are good for your kidney. Kidney damages can not be repaired by some foods, but to protect kidneys, foods bad for kidney should be avoided. (Send message to kidneycares@hotmail.com or leave message below to get diet suggestions)
5. Lastly, develop healthy lifestyle and avoid bad living habits like smoking, drinking alcohol and staying up.
High creatinine level is the result of declined kidney function, so only when kidney is strengthened, can creatinine level be lowered down to the normal range.