Is Green Tea Good For Lowering High Creatinine
2014-10-16 01:41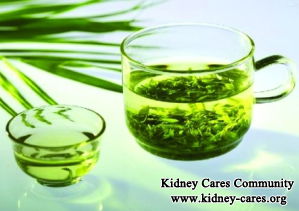 Green tea has been used as a medicine for thousands of years and this beverage has a multiple of uses from lowering blood pressure to preventing cancer. Is green tea good for lowering high creatinine level? Read through the article and find the answer.
1. Diabetes
Green tea helps regulate glucose levels which can slow the rise of blood sugar after eating. This can prevent high insulin spikes and resulting fat storage. We know creatinine elevation is an indicator of kidney disease. Diabetes is a leading cause of kidney disease. If your renal disease is caused by long term of diabetes, it is very important to keep blood sugar under control. It in turn contributes to avoiding further kidney damage and lowering high creatinine level.
2. Lowering blood pressure
Regular consumption of green tea is capable for reducing the risk of high blood pressure. High blood pressure and kidney disease affect each other. In view of this, kidney disease with high blood pressure can drink green tea. But how much you can drink depends on your medical conditions.
3. Good for heart disease
Cardiovascular disease is the main cause of death for kidney disease patients. Statistics show that more than 45-60% kidney disease patients die of cardiovascular disease. Green tea is thought to work on the lining of blood vessels. And it may also protect against the formation of clots, which are the primary cause of heart attacks.
Green tea has the above health benefits and kidney disease patients can benefit from drinking it. As long as it is good for kidneys, it is also good for lowering high creatinine level to some extent. But if you rely on drinking green tea to decrease creatinine, it is far enough. Besides, it will also cause some side effects or contraindications to drinking green tea due to its severe caffeine. Generally, kidney disease patients are not recommended to drink caffeine drinks.