Chinese Therapy To Reduce High Creatinine Level
2014-10-07 06:37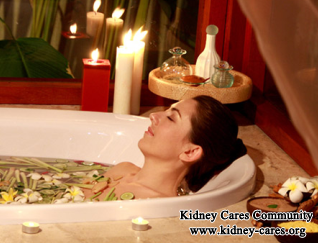 The kidney of one of our patients' works only 17% and the creatinine level is 3.9. Although dialysis can do some help to reduce high creatinine level, it is sometimes rejected by many patients because dialysis will bring some side effects like vomiting, nausea, low blood pressure, and muscle cramps. Therefore, many people want to have a try of natural Chinese therapy to reduce elevated creatinine level. Well then, what is Chinese therapy to lower high creatinine level effectively?
High creatinine and kidney function
Creatinine is the metabolic waste of human body, even a breath can bring about creatinine. More than 90% creatinine could be discharged by human body in normal condition, among them 70% is discharged by kidney, and the rest is discharged by skin's sweating and gastraintestinal tract system. When kidneys get injured, kidney filtration rate can become low, so metabolic wastes can mess up in blood and contaminate blood, so more cells can be inflamed. That is why your creatinine increased from low level to high level. Moreover, under such a contaminated condition, your marrow function will be restrained, so it can not produce red blood cells on its own. Your whole body is in a state of ischemia and anoxia. Compared with before, you can feel tired more easily, your skin color also becomes gloomy.
Chinese therapy to reduce high creatinine level
1. Medicated bath, enema, foot bath, moxibustion and acupuncture
We use medicated bath, enema, foot bath, moxibustion and acupuncture to dredge your meridians and channels, so toxins can be discharged by your skin and gastraintestinal tract system step by step to clean your blood. As mentioned above, now your kidney filtration rate is low, the toxins can not be discharged by your kidneys, so we need other ways to discharge them. This helps provide a clean condition for the next treatment.
2. Oral taking Chinese medicine and external Chinese medicine
We use oral Chinese medicine and external Chinese medicine to restrain the inflammation over kidney, block the hyper-reaction of T cells and B cells, decompose those extracellular matrix, which are main reasons for renal fibrosis. Besides, Chinese medicine has special efficacy to restore qi and blood. This can improve your condition of ischmia and anoxia.
The above Chinese therapies are good for kidney function recovery. When renal function is enhanced, high creatinine level will also be reduced naturally and effectively.