Does Consumption Of Flax Seed Increase Creatinine
2014-10-06 01:58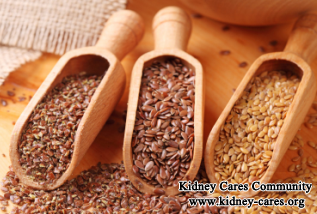 Creatinine is a waste product and should be expelled out by kidneys. It has close correlation with kidney. High creatinine usually indicates kidney-related problem. Therefore, many people with kidney disease pay attention to their diet so as not to increase creatinine level to avoid further kidney damage. Flax seed has many health benefits. However, does consumption of flax seed increase creatinine?
There is no clear study which proves that flax seeds will increase creatinine level. But if people have high potassium level in their blood, they should not eat flax seeds. In normal case, kidney disease patients can consume flax seeds because of its many health benefits. Namely, kidney disease patients can get the following health benefits from flax seeds:
1. Lower high blood pressure
It is researched that flax seeds lower blood pressure in hypertensive patients. High blood pressure is a leading cause for kidney disease, so it is crucial for hypertensive patients to keep high blood pressure under control.
2. Anti-inflammatory properties
Flax seeds are rich in omega-3 fatty acids which has anti-inflammatory properties, and may help control inflammatory conditions such as lupus, gout and arthritis. These all contribute to your overall health conditions.
3. Boost cardiovascular system
Cardiovascular disease is a main complication of kidney disease and cause many people die from it. By lowering the level of cholesterol and triglycerides in the body, flax seeds can help your cardiovascular system, and overall health of your heart.
Flax seeds have the above health benefits and they are good for people with renal disease. However, flax seeds also produce some side effects like diarrhea, bleeding and bloating. Thereby, you should consult your doctor before taking flax seeds.