Does Urine Therapy Help to Reduce Creatinine Level
2014-09-14 08:51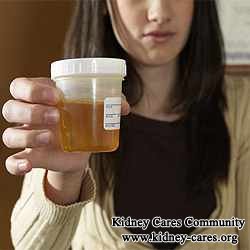 Urine therapy is a kind of folk therapy, which is to drink your own urine to treat disease. Recently this therapy becomes more and more popular. Does urine therapy help to reduce creatinine level?
Let's learn more about urine therapy first.
Some people may think that urine is so dirty that it is not edible. But people who use urine therapy think that urine is not a dirty and toxic substance rejected by the body, but a by-product of blood filtration. In the urine, there is excess waster, salt, vitamins, minerals, enzymes, antibodies, urea, uric acid and other elements. They are all good for the health. Though urea has toxicity, it can be eaten moderately to inhibit the proliferation of bacteria.
Besides, urine and blood has the same source. And urine can reflect your medical condition. When you are ill and discharge urine, some antigen and antibody will be excreted out of body. After drinking urine, they will be taken back to your body, strengthening immune system to fight against disease. It is claimed that urine is a cure for many maladies including AIDS, cancer, asthma, arthritis and other aliments.Therefore, for kidney patients, drinking urine regularly may help you to certain extent.
However, some people oppose urine therapy.
Urine therapy is not recognized by people widely, because there is no scientific evidence to prove it is really effective. Besides, the substance in the urine may further damage your liver and kidneys so as to speed up the progression to kidney failure.
We are still not sure whether urine therapy can help you to reduce creatinine level or not. Therefore, you take it seriously and do not use it at random. If you really want to try it, consult your doctor for sure. In fact, there are also other natural therapies which are helpful for you to repair the damaged kidneys and reduce creatinine level, such as Micro-Chinese Medicine, Foot Bath, Full Bath and some other TCM therapies. For the sake of security, you had better try these therapies. If you have any question, please feel free to contact online doctor or leave a message below.