Can I Give Fenugreek Leaf for Creatinine Level 4.6 Patient
2014-09-11 02:26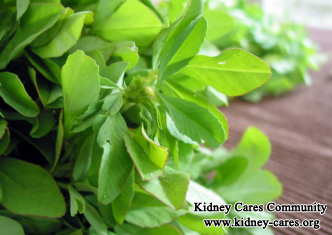 Fenugreek leaf is very health-beneficial if used properly and it is also said to be good for kidney disease patients. Serum creatinine level 4.6 is a very high level which usually mean renal insufficiency. Well, for a kidney diseaes patient with creatinine level 4.6, can we give him fenugreek leaf to help with kidney problem?
Fenugreek leaves are always used as a flavoring herb in curries and cuishines from India and the Middle East. They are enriched with minerals like Potassium, Calcium, and Iron which are very important for a healthy body, so fenugreek leaves are very health-beneficial.
Serum creatinine level should fluctuate in the range 0.5-1.3mg/dL, and there are lots of creatinine are formed in the body, kidneys will help remove the excess one. So healthy kidney is very important for a normal serum creatinine level. Creatinine 4.6 is several times higher than the normal range which means kidney condition have been damaged severely. Under such a condition, what we give patients must be good for kidney.
In our daily life, Fenugreek leaf is commonly used in cooking, but it has long history of medical use and also has been studied to be good for kidney. Fenugreek leaf benefits kidney by fighting agianst damage to the kidneys caused by chemicals as well as protecting against the development of kidney stones.
Fenugreek leaf is good for kidney, but it as we have mentioned in the above, it is rich in minerals like potassium. Kidney is in charge of potassium balance in the body, and when kidney function is impaired severely, potassium level in blood increases, leading to hyperkalemia which is very harmful for our heart. Serum creatinine 4.6 is a very high level. In such a case, kidneys have lost most of their working ability, so the usage of fenugreek leaf should be under doctor's directly, so as to avoid aggravating hyperkalemia and protect the heart.
Lastly, for an individual with creatinine level 4.6, what herbs he uses and foods he eats must be good for kidney, or dialysis is needed soon. Here we offer online service, and if you can not make sure if some foods or herbs are good or not for the patient, you can consult our online doctor for help.