How Does Dietary Protein Affect Creatinine Level
2014-07-31 06:04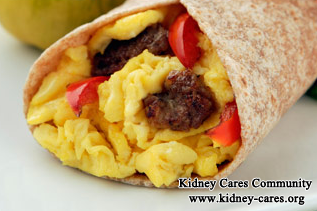 People with high creatinine level in blood are always asked to regulate their daily dietary protein, why is this? How much protein is needed every day for a high creatinine level patient?
How does dietary protein affect creatinine level?
Dietary protein has no direct relationship with creatinine level in blood, but both of them are related with kidney condition.
Protein is a nutrient needed by the human body for growth and maintenance. When protein is consumed in our body, waste like urea nitrogen will be produced and this kind of metabolite needs to be removed out of the body by kidney. Therefore, high protein intake will increase kidney burden.
Creatinine is also a substance that needs to be cleared away from blood through kidney, so high creatinine level in blood usually indicates poor kidney function. Under such a condition, if patients keep having high protein diet, kidney function will be worsened and creatinine level becomes higher and higher.
Daily dietary protein intake for high creatinine level patients?
Since high protein diet is harmful for high creatinine level patients, then how much protein they can ingest everyday?
High creatinine in blood indicates impairment of kidney function. Generally, how much protein is needed by kidney disease patients depends on their residual kidney condition:
For people who are in CKD stage 2-3, 0.6gram of protein per kilogram of body weight is needed every day, but for these whose illness is in stage 4, 0.4grm/k/d is ok. And for these whose illness has developed to end stage and meanwhile if they are not on dialysis, 0.2g/k/d is needed and for dialysis patients, they need to ingest much more protein every day (1.2 g/k/d).
Lastly, creatinine level helps to reflect kidney condition, and you know your GFR and which stage you are in by this test: http://www.kidney-cares.org/gfr.html.