Can Taking Water Pills Decrease Creatinine Level
2014-07-18 07:28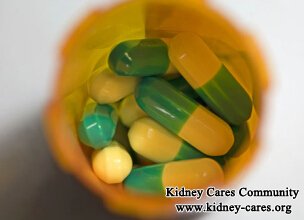 When your kidneys can not function well, fluid and some other waste will build up in the body. To remove the excess fluid, water pills are often used. Water pills, also known as diuretics, help the kidneys flush extra water and salt from your body so as to decrease blood volume. Can taking water pills decrease creatinine level?
Because creatinine is passed out of the body with urine. It seems that taking water pill is helpful in decreasing creatinine level, because water pills increase urine output. But as a matter as fact, this idea is not completely correct. Water pills sometimes can make your body dehydrate, leading to high creatinine level. Therefore, you had better consult your doctor to make sure whether you can take water pills to decrease creatinine level or not. Because long-term use of water pills can cause damage to the kidneys, they are not recommended to use for long-term. There are also some other ways to help you decrease creatinine level. Hope it can help you.
-Limit meat consumption, because meat is a great source of creatine.
-Avoid strenuous exercise, because exercise can cause muscle contraction so as to produce creatinine.
-Water pills are not the only medicine to decrease creatinine level. Calcium channel blockers, β blockers and ketosteil are also helpful. You can choose the one suitable for your medical condition.
-Improve kidney function. In TCM, there are a series of external therapies and herbs to repair the damaged kidneys and improve kidney function. Micro-Chinese Medicine Osmotherapy is just one of them. This therapy can alleviate kidney inflammation, improve blood circulation and stop kidney fibrosis so as to help your kidneys repair themselves. Besides, Enema Therapy and Medical Bath are often used to draw out toxins from body. When your kidneys regain their ability, they can remove creatinine from the body.
For kidney patients, only improving kidney function can they decrease creatinine level from the root. If you would like to know more information about how to decrease creatinine level, please leave a message or send emails to kidneycares@hotmail.com.