Can People with High Blood Creatinine Level Take Chicken Broth
2014-07-17 03:35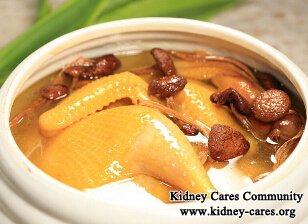 For kidney patients, high creatinine level results from kidney function impairment. According to Traditional Chinese Medicine, dietary nourishment is better than medicinal nourishment. Through healthy diet, you can acquire a good physical condition so as to help you fight against kidney disease. Can people with high blood creatinine level take chicken broth?
People with high blood creatinine level had better not take chicken broth.
Chicken broth tastes very delicious and packed with rich nutrition, so many people use it as a tonic. Especially when you are ill, chicken broth is made. Because it can not only increase appetite, but also provide a lot of nutrimental matters and enhance immunity. However, chicken broth is not suitable for people with kidney function impairment due to the following reasons.
-There are some small molecule protein in chicken broth. When they come into your body, some of them can be absorbed by your body, while some can be broken into urea. Because the damaged kidneys can not filter these waste from the body, blood urea will increase if you take too much chicken broth so as to aggravate your state of illness.
-Chicken broth contains high quantity of chicken fat, which is mostly saturated fatty acid. It is not helpful in reducing high blood pressure. What is worse, it can make blood cholesterol level increase, leading to coronary arteriosclerosis.
-Chicken broth is not good for the recovery of kidney inflammation.
All in all, you had better avoid taking chicken broth if you are with high blood creatinine level.
Healthy diet guideline for kidney patients
There are some diet guideline for you to judge whether certain food is good for you or not. You should follow a limited high quality protein diet, a low sodium diet, a low fat diet and high vitamin diet. Besides, you should pay attention to the intake of potassium, phosphorus and calcium if they are abnormal.
In order to protect your kidney function well, it is better for you to consult a dietitian and make a personalized diet plan for you.