Eggs and High Creatinine Level
2014-07-09 09:49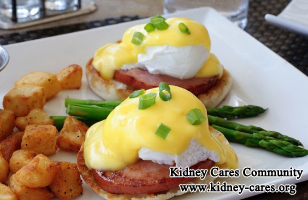 Improper diet is said to be able to casue furthe elevation of creatinine level in blood, so when one is told to have high creatinine level, knowing what foods to eat and to avoid is very important. Egg is a good nutrition source for both children and adults. Well, for people who have elevated creatinine, is it ok for them to eat eggs?
High creatinine level indicates kidney problem, so foods good for kidney are suggested and foods which damage kidney or increase kidney burden should be avoided. Egg is a good source for protein in our daily life. Protein is the basic of life, so eating egg regularly is necessary. Egg is also a nutrient for high creatinine level patients, but they need to calculate the intake of egg, so as to avoid ingesting too much protein at one time, because patients with kidney problem need to limit protein intake.
Kidney is an important organ which helps to preserve protein in the body while bloof passig through kidney. When kidney function is impaired, some protein leak into urine. Eating too much egg will worsen protein leakage, which is harmful for kidney.
Besides, people with high levels of creatinine should avoid egg yolk because of its high cholesterol. Due to serious protein leakage, protein level in blood becomes very low. Under such a condition, liver will produce lipoprotein to meet the demand of the body and this leads to hyperlipemia easily. Therefore, egg yolk is usually not recommended for high creatinine level patients.
Additional, egg white contains high quality protein which can provide our body with necessary nutrition and meanwhile produces less wastes while it is consumped in the body. Therefore, foods with high quality protein is suggested compared with these with low quality protein. In our daily life, aside from egg white, high quality protein also can be found in lean meat, fish and milk.