High Creatinine Level and Chronic Kidney Disease (CKD)
2014-06-22 03:28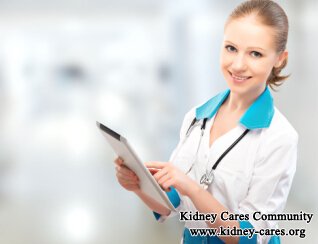 When you are diagnosed with chronic kidney disease (CKD), the most common question that often troubles you may be the high creatinine level. How much information do you know about high creatinine level and CKD?
Why CKD causes high Creatinine level?
Creatinine is a waste product that is passed out of the body by kidneys. When your kidneys go wrong, they can not filter creatinine from your blood, as a result, your creatinine level begins to increase. The normal creatinine level for adult ranges from 0.5 to 1.3 mg/dL. In the early stage CKD, there is no obvious increase in creatinine. When your kidney function loses more than 50 %, creatinine level becomes high. If high creatinine level can not be brought under control, it can cause further damage to your kidneys.
CKD stages, GFR and creatinine level
According to GFR, CKD is classified into five stages. And there are corresponding creatinine levels. You can see their relationship in the following form and check which CKD stage you are in. The data may be a little different in different areas.


How to lower creatinine?
-Diet
Creatine is a good source of creatinine, so you had better limit the intake of food high in creatine, such as red meat, fish, poultry, etc. But these foods are protein that body needs. In order to satisfy the need of body, you can eat proper egg white. In the daily, consume vegetables and fruits instead of these meat.
-Exercise
When you do exercise, your muscle contracts, which can also produce creatinine as well. In the daily, you had better avoid strenuous exercise, such as football and basketball. But doing some gentle exercises, such as walking and tai chi is good for your health.
If your creatinine is more than 8 mg/dL, dialysis is often suggested to take over part of your kidney function to filter creatinine from your blood.
-Treatment
If you would like to lower creatinine, you should improve kidney function so as to increase the output of creatinine. In our hospital, we achieve the goal by inhibiting kidney inflammation, improving ischemia and anoxia in the kidneys, preventing kidney fibrosis and providing essential substances for the damaged kidneys to repair themselves. When your kidney function improves, not only creatinine level decreases, but also other symptoms alleviate, such as proteinuria and anemia. There are many therapies and medicine that are proved effective in treating kidney disease. If you are interested in them, please feel free to contact online doctor. We are glad to help you make a personalized treatment plan.