Is There Any Relation Between High Creatinine Level and Low Hemoglobin Level
2014-06-16 07:06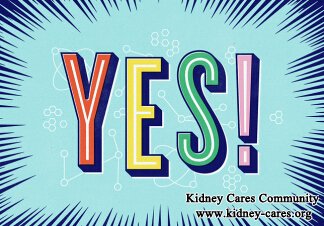 Is there any relation between high creatinine level and low hemoglobin level? The answer is certain. For people with severe kidney disease, they are no stranger to high creatinine level and low hemoglobin level. Creatinine level and hemoglobin level are indicators of kidney function impairment. Now let's learn more information about them.
Creatinine and hemoglobin
Creatinine in the body generally has two sources. One is the muscle contraction and the other is the meat you consume. Creatinine is a chemical waste product in the blood that passes through the kidneys to be filtered and eliminated in urine. When kidneys are damaged, creatinine level increases.
Hemoglobin is the molecule in red blood cells that contains an iron molecule and carries oxygen. As we all know, kidney has many functions, one of which is to secrete hormones, such as erythropoietin. It stimulates the production and maintenance of red blood cells. When there is not enough erythropoietin, your hemoglobin level decreases.
How to deal with high creatinine level and low hemoglobin level?
From the above, we can see that high creatinine level and hemoglobin level are both associated with kidney function impairment. If you would like to deal with these problems, you should improve kidney function.
Because when your kidneys are damaged, there will be toxins, inflammatory factors, immune complexes and some others in the blood. So you should recover the blood system first. And then your damaged kidneys can gradually regain their ability. There are many therapies in our hospital to help you achieve this goal, such as Micro-Chinese Medicines Osmotherapy, Medicated Bath, Foot Bath Therapy, Circle Therapy, Moxibustion, etc. Space limited, we do not explain them one by one. If you would like to learn more, please contact online doctor or leave a message below.