Is Ampalaya Good for High Creatinine Level People
2014-06-15 08:02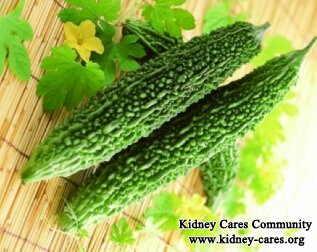 Ampalaya is also known as bitter gourd. Though it tastes bitter, it has many health benefits. Is ampalaya good for high creatinine level people? In the following, you may find the information you need.
Creatinine is a waste product which is passed out of body by kidneys. When your kidney function impairs, creatinine will gradually build up the blood. When your kidneys are severely damaged, high creatinine occurs. Paying attention to the intake of foods can help you reduce creatinine level to certain extent. Meat product is a source of creatinine, while ampalaya is just a kind of vegetable, so eating ampalaya can not cause high creatinine. Besides, ampalaya contains rich vitamins and minerals, such as vitamin A, vitamin B, vitamin C, calcium, potassium, zinc, iron, copper and phosphorus. They can help alleviate some of the symptoms of high creatinine level people.
-Vitamins can help you boost immune system so as to help you fight against various disease, such as infection, cold and kidney disease.
-When kidney function declines, not only creatinine builds up in the blood, but also other waste retains in the blood. Ampalaya purifies blood because of its blood-purifying properties and also cures many blood disorders like itching due to blood poisoning.
-Ampalaya is also useful in curing kidney stones and helps maintain healthy liver and bladder.
-Fiber in ampalaya helps to reduce the bad cholesterol levels so as to reduce the chance of heart attacks.
-It is also known to lower blood sugar levels that help in maintaining good heart health. If your high creatinine level is associated with diabetes, Ampalaya is really a good choice.
Precaution
Though ampalaya has so many health benefits, it does not mean you can consume ampalaya freely. Because too much consumption of ampalaya can cause abdominal pain or diarrhea.
If you would like to know whether you can eat ampalaya or not and how much ampalaya you can consume, please consult a dietitian. He can also help you make a renal-friendly diet as well.