What Should We Eat And Not Eat If Creatinine Level Is 6.5
2014-05-25 08:25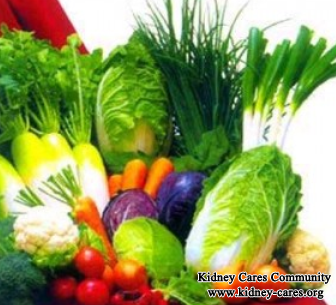 The normal creatinine level is 0.5mg/dl-1.2mg/dl. When creatinine is higher than normal, it can be caused by many factors like more meat intake, long term standing, and often kidney-related problem. If the higher creatinine level is resulted from kidney damage, it is usually dangerous. For creatinine level 6.5, it is much higher and it also indicates severe damages on kidneys. Diet is an important part in controlling or reducing creatinine level. Well then what foods can be eaten and what foods cannot be eaten with creatinine 6.5?
Foods can be eaten with creatinine level 6.5
1. Leafy greens, especially cabbage and lettuce
High creatinine patients can eat more leafy greens and especially cabbage and lettuce, because they will help to decrease the levels of creatinine in your blood. Furthermore, leafy greens will prevent the formation of kidney stones.
2. Garlic and onion
Garlic and onion is able to get rid of high creatinine levels. Garlic has been proven that it can protect kidneys from free radical damage. Onion is also effective on lowering high blood pressure. In view of this, garlic and onion is good for people with kidney disease especially elevated creatinine level.
3. Fluids
The last but not the least tip to reduce high creatinine levels is to drink a lot of fluids daily if you have no obvious edema. Keep yourself hydrated, as creatinine levels can be decreased by urination. Dehydration can also lead to elevated creatinine.
Foods can not be eaten with creatinine 6.5
1. High protein foods
When high levels of creatinine are related to kidney damage, you should decrease the amount of protein in your diet. When protein is broken down, it will create a waste product called urea. When kidney function declines, this waste cannot be removed from the body and it will build up in the body. Too much protein intake may cause further kidney damage. Reducing protein in your diet can help reduce the amount of waste.
2. High sodium foods
When you have kidney disease or high blood pressure in renal disease, you should follow a low sodium in your diet.
Due to limited space and time here, we cannot provide all the dietary tips for you. If you have specific dietary questions, you can leave us a message to kidneycares@hotmail.com or have a talk with our expert face to face.