Do beans Increase Creatinine Level
2014-04-27 02:45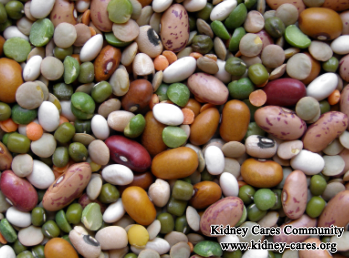 Will beans cause high creatinine level? We all high creatinine level patients should avoid foods to worsen creatinine level. People with elevated creatinine are concerned about anything they eat in their daily life. One question from our patients is whether beans will increase creatinine level?
For the above question,we should first know what can lead to elevated creatinine level.
The normal creatinine level is 1.3mg./dl. If your level is higher than this level, you will be told you have high creatinine level. Strenuous exercise, too much protein intake, dehydration, infection and kidney damage can all result in elevated creatinine level. Apart from kidney damage, causes of high creatinine can be reversed by diet modification and relative medications. However, if kidney damage leads to high creatinine level, read the following article to know whether you can eat beans or not.
Can people with kidney disease can eat beans?
Creatine is found in numerous high protein foods such as chicken, fish and beef. As a result, once you have high creatinine level, meats may be reduced or limited in your diet. While meat-based protein sources increase creatinine level, protein such as tofu, rice and beans do not contain much creatine and will still provide you with adequate levels of protein. In this case, patients with high creatinine level can eat beans, but you should not eat too much and the amount should be moderate.
In addition, bean has the health benefits as below:
1. Lower cholesterol levels
2. Improve diabetics' blood glucose control
3. Lower blood pressure
4. Prevent and cure constipation
5. Reduce your heart disease and improve your bone health
All the health benefits are good for kidney disease patients. As long as kidney disease get some alleviation, high creatinine level is also relieved naturally. In this light, kidney disease patients can eat beans. However, if people with high high potassium or phosphorus level, they should avoid or at least limit the intake of beans.
Any question, you can leave us a message to kidneycares@hotmail.com or directly have a talk with our online doctor. We all try our best to solve your problems.