Can Ketostril Control High Creatinine level
2014-04-06 02:18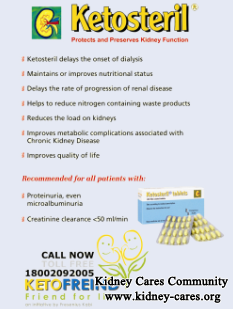 Ketostril is also called compound α-Ketoacid Tablets and this medicine is familiar to most kidney disease patients. It is said that ketostril has some effects on reducing high creatinine level. Is this true? Can ketostril really help control high creatinine level?
1. Ketostril does help control high creatinine level to some extent. And the following we will tell you how does ketostril reduce high creatinine level.
Ketostril can produce amino acid through combing with the nitrogen in the unnecessary amino acid. In this way, ketostril can not only provide amino acid for the body, also reduce the production of urea and avoid overworking kidney's function. Therefore, ketostril can really control high creatinine level and delay the progression of kidney disease to some extent.
However, controlling high creatinine level is not enough for kidney disease. High creatinine level is just one of the symptoms of kidney disease. Apart from high creatinine, there are also various symptoms of kidney disease such as high blood pressure, proteinuria, hematuria, swelling and itchy skin, etc. What we want to say is you should treat the root cause of high creatinine level. Only if the root cause is solved can further relapse of high creatinine be prevented. In this light, patients with kidney disease should not only depend on ketostril because it can not repair damaged kidney tissues and recover kidney functions.
2. How does high creatinine occur?
The cause of high creatinine is the declined glomerular excretion ability and impaired kidney function. Only when the damaged kidney tissues are repaired and kidney functions are improved can excessive wastes including creatinine and blood urea nitrogen be discharged out of the body with urine. More importantly, patients have no need to worry about the on and off of high creatinine as the root cause of high creatinine has been solved.
3. How to treat high creatinine level from the root?
We recommend Micro-Chinese Medicine Osmotherapy to repair damaged renal intrinsic cells and restore renal structure and part of kidney function. This is because the active ingredients in Chinese herbal medicine have the ability of anti-inflammation, anti-coagulation, degradation of extracellular matrix and blood circulation promotion so as to block renal fibrosis, repair damaged renal intrinsic cells as well as restore kidney function. After this treatment, high creatinine level can be lowered naturally and without on and off.