What Foods Can Not Be Eaten By High Creatinine Patients
2014-04-04 09:38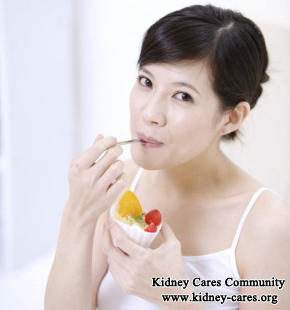 For kidney disease patients, high creatinine usually indicates badly kidney damage. Creatinine is the metabolism of muscle. Normally, it can be discharged out of the body by kidneys. However, high creatinine level indicated kidney damage and the kidneys cannot help remove wastes from the body. Thus, when serum creatinine is high in blood, kidney disease patients need to modifiy diet so as to avoid overworking kidneys. Well what foods can not be eaten by kidney disease patients with high creatinine level?
Kidney disease patients with high creatinine level should not eat the following foods.
1. avoid consuming too much protein
protein is the necessary element in human body, while for kidney disease patients, long-term protein intake will workload your kidneys and worsen your medical conditions. Thereby, patients with high creatinine level should stay away from protein-rich foods like beans and bean products. Having a tight control of protein intake is good for protecting remaining kidney function.
2. less salt intake
Kidneys are important organs to keep balance of electrolytes and fluid. When kidneys are damaged, it wil lead to the disorder of sadium, causing water/sodium retention. If patients eat too much salted foods which will aggravate the disorder the sodium and water, and then worsen kidney disease. In this case, patients should avoid eating too much salted foods. And they need to eat some light foods so as not aggravate medical conditions and high creatinine level.
3. balance potassium intake
Kidney disease patients often have high potassium level in their blood. A long-term of high potassium level will lead to irregular heartbeat and stroke. Patients with high potassium level should not eat or eat less potassium foods. In daily diet, high potassium foods are bananas, grapes, oranges and yam, etc.
4. low phosphorus intake and high calciun intake
High phosphorus level will inhibite the absorption of calcium and then trigger a series of bone problems like bone pain and bone fracture. In order to control phosphorus level and increase the calcium absorption, kidney disease patients should not eat or eat less phosphorus-rich foods such as corn, peanuts, fungus, ham and gingelly, etc.
The clinical experiments have proven that kidneys have strong compensatory ability and when the glomerular filtration rate declines to 1/3 of normal, serum creatinine level will show higher than normal. Therefore, apart from diet modification to lower high creatinine, scientific remedies are the indispensable ways to reduce high creatinine level.