Can High Creatinine Level Patients Consume Potato Juice
2014-03-17 09:51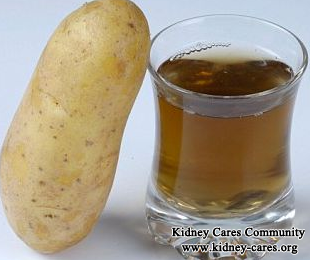 During physical activity, muscle cells break down and form a waste product called creatinine. When kidneys function normally, they can remove creatinine from the bloodstream and eliminate it in the urine. When kidney function declines, creatinine pile up in the blood stream and causes problems such as itchy skin, nausea, vomiting and poor appetite. Proper and healthy diet may help reduce high creatinine, so patients with high creatinine always ask what can they eat and what they can not eat. One of the questions is if high creatinine level patients consume potato juice. And here we will tell you the answer.
The type of diet for high creatinine level restricts the intake of protein, phosphorus, potassium and sodium. For potato juice, rich potassium is contained in the potato juice. From this aspect, we suggest high creatinine patients do not drink potato juice. This is because potassium level is high, it is easy to cause irregular heartbeat and heart attack. Thereby, high creatinine patients should avoid high potassium foods, including potato, banana, apricot, tomatoes, oranges, chocolate and nuts.
Apart from high potassium foods, high creatinine level patients should also take protein, sodium and phosphorus into consideration.
As to protein supply, high creatinine level patients should take a low but high quality protein. High quality protein intake is to minimize the waste production, thus lightening kidney burden. High quality protein intake can be found in foods such as fish, egg white, lean meat and milk, etc.
Sodium intake: people with kidney disease should avoid the sodium content of foods such as pickle, canned vegetables, frozen foods, fast foods, canned soups, cheese and salted potato chips and so on.
Phosphorus limitation: foods rich in protein are also rich in phosphorus. Thus, restricting protein also needs to restrict phosphorus in diet. Foods to be avoided, including cheese, chocolate, cocoa, fish and legumes, bacon and beef.
As mentioned above, high creatinine level patients should not consume potatoes. In addition to potatoes, the above considerations you should also pay attention to. If you have any question, please leave us a message below or send your mail to kidneycares@hotmail.com.