What Causes Creatinine To Be Rising
2014-03-13 14:33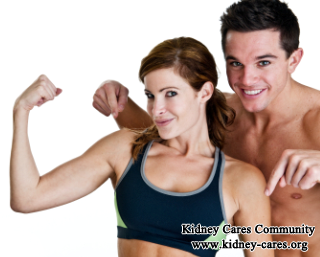 The normal value of creatinine is 0.5-1.1mg/ml for female and 0.6 to 1.2mg/ml for male. If the value is higher than this normal value, which is called high creatinine level. Then which cases can cause creatinine to be high?
Creatinine is a chemical waste product in the blood which passes through the kidneys to be filtered and eliminated in urine. The creatinine is a muscle metabolism. Generally creatinine levels in the blood remain unchanged from day to day because muscle mass stays the same. And creatinine levels may be raised to various factors:
1. Destruction of muscle
2. High intake of meat
3. Increased protein intake
4. Hypothyoidism
5. Dehydration
6. Strenuous exercise
All these factors can elevate creatinine level. But tight control and daily management can reduce creatinine level to normal and cause no harms to your body. However, renal impairment or failure is usually cause high creatinine and it is very life-threatening.
Why does elevated creatinine occur in patients with renal injury or renal failure?
The most common reasons for developing raised creatinine levels will be when the filtration mechanism becomes damaged by long-term or poor control raised blood pressure and diabetes. As the filtration mechanism is damaged and becomes increasingly unable to cope, the creatinine level rises. A reliable measure of renal function is often to do a creatinine clearance test by your doctors. In very general terms, a rising creatinine level signifies an increasing problem with poor kidney function. Rising creatinine occurrence caused by renal damage is very dangerous, which is because your kidney function has been severely damaged and at least half of kidney function has lost. In early stage of kidney disease, you do not show any symptoms due to strongly compensatory ability of kidneys. Therefore, once you show high creatinine, signifying severe kidney damage.
From the above, we can see kidney disease is the most common factor of high creatinine, but not always. If you have specific concerns about yourself or a friend, I suggest you consult your doctor or online renal experts who may help you a lot.