What Does Creatinine Level of 4.8 Mean
2012-11-18 16:59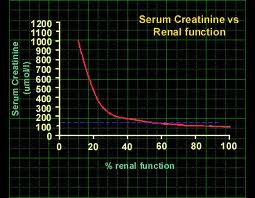 Creatinine has two types---serum creatinine and urine creatinine and their total amount is stable. When we talks about creatinine, it mainly refers to the serum creatinine which can be used to reflect the glomerular filtration and kidney functions.
To know what the creatinine level of 4.8 means, we need first know what the normal value is and how much 4.8 is higher than the normal range. Creatinine is usually reported in mg/dl in the US while umol/l is used in China, Canada, Australia, etc. 1mg/dl=88.4umol/l. The referential value of normal creatinine range is 0.5-1.0mg/dl for women and 0.7-1.2mg/dl for men. Therefore we can see that creatinine level of 4.8 is quite high and if the patients have obvious signs and discomforts such metabolic acidosis, hypertension, blood in urine, edema, etc, and dialysis may be required or too much accumulation of wastes and toxins will poison the kidneys and other organs and further aggravate the illness conditions.
Increased creatinine is caused by decreased glomerular filtration rate because creatinine is mainly discharged out of the blood by the kidneys. When the kidneys are damaged by various reasons, the creatinine and other wastes such as urea nitrogen and uric acid can not be cleared out and there will be increase of serum creatinine and decrease of urine creatinine and GFR.
Creatinine 4.8 means that the disease has entered in stage 4 CKD (chronic kidney disease) and that the kidney function has been below 15%. This stage is very crucial for receiving timely and effective treatments or it will gradually develop into end stage renal disease in which patients will have no choice but to take renal replacement therapies (dialysis and kidney transplant).
Lowering creatinine is not the final goal because many medicines can help lower the creatinine level, but the effect is transient because the root problem has not been solved, that is the impairments of the glomerular filtration membrane. Creatinine is not a disease itself but an indicator of kidney function. So long as the kidney function is improved can creatinine be discharged and it will fall naturally.
Get free online analysis for your illness condition here. Choose any of the following tools to start instant communication with our experts.
Leave Message
Leave your problem to us, we are here to help you with free charge!