Does High Creatinine Level Always Be Dangerous
2014-02-24 11:28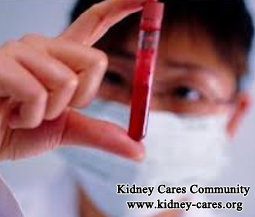 We know creatinine level is a major indicator of kidney function. Usually the higher the creatinine level is, the poorer kidney function is. However, does high creatinine level always be dangerous?
1. Creatinine and kidney disease
Creatinine is a by-product of metabolic muscles. Normally it is filtered from the body by the kidneys in the process of urination. Creatinine levels in the body are important indicators of kidney function. High creatinine levels may have a drastic effect on the kidneys and may even lead to kidney failure. Besides, if you have persist high creatinine level which lasts for more than 7 days, it is more likely to be a kidney-related problem. In this condition, high creatinine level is dangerous.
2. Other factors and high creatinine level
Apart from kidney disease causing high creatinine level, other factors also can affect creatinine level. For example, dehydration, long-time standing and much protein intake can all cause elevated creatinine level. But this kind of high creatinine level can be normal after a period of time. You can limit your protein intake and drink more water to normalize your high creatinine level. It is not dangerous.
3. What is risk of high creatinine level in kidney disease?
The high creatinine level caused by kidney damage does not occur until at least half of kidney function has been damaged. That is to say, when you notice you have high creatinine level, your kidneys have been severely damaged. It is urgent for you to take treatment to lower it, otherwise it may speed up the process of kidney disease into kidney failure. For lowering high creatinine level, dialysis is a common therapy which performs as an artificial kidney to remove excess water, wastes including creatinine out of the body. Besides, Chinese medicines, immunotherapy, blood and purification therapy all can lower high creatinine level by repairing kidney damages and improving kidney function. It is no surgery and can help lower high creatinine level naturally.
High creatinine level does not always dangerous. But if it is caused by kidney damage, it is dangerous to you and need your more attention.