Foods to Avoid with High Creatinine Level
2013-09-07 17:17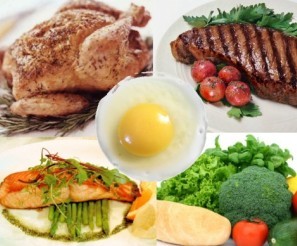 Many foods need to be avoided when your creatinine level is higher than the normal range (0.5-1.1 for female and 0.6-1.2 for male), and the purpose of which is to protect residual kidney function and prevent kidney failure.
It is widely known that people with kidney problem always have elevated creatinine level and once the level of creatinine increases to a certain degree, generally no less than 5.6, Dialysis or kidney transplant will be suggested. Some foods have influence on creatinine level, so to prevent creatinine level increase to the level that need dialysis or kidney transplant, these foods that can elevate creatinine level need to be avoided.
Foods to avoid with high creatinine level:
1. Foods with high protein
Low-protein diet is commonly recommended for kidney disease patients, and this is because too much protein intake will increase extra renal burden, which can worsen kidney damages and therefore cause a higher creatinine level. Beans, bean products, fish, milk, egg white and lean meat are high in protein, they need to be avoided in theory. However, to meet the physical demand, kidney disease patients can take some fish, milk and lean meat. They contain high quality protein and cause little extra renal burden. Therefore, they are available for kidney disease patients, but the intake of them need to be limited. Depending on the kidney function, the exact amount of protein intake will vary. How much protein to consume each day? It depends on your kidney damage degree and illness condition. You can consult with our online medical professional to get a reference now.
2. Too much meat will not be recommended
Creatinine is the end product of meat in our body, including our muscles and meat taken by us during diet. We can not change our muscle mass, but we can eat less meat everyday to reduce the generation of creatinine as much as possible. Eating less meat is not a permanent method to lower creatinine level, but it is beneficial for controlling high creatinine level.
3. Foods with high potassium and phosphorus need to be avoided as well
Kidney disease patients are easily to suffer from high levels of potassium and phosphorus due to decrease kidney function. Therefore, if lad tests show that the amount of their potassium and phosphorus in blood is higher than the normal value, foods with high potassium or phosphorus should be restrict strictly.
Foods with highest in potassium include avocados, red chili powder, coca powder, chocolate, dried apricots, prunes, zante currants, and raisins, pistachios, various nuts, pumpkin seeds, squash seeds, sunflower seeds and so on.
Foods that is high in phosphorus include bran, pumpkin seeds, squash seeds, sunflower seeds, toasted wheat germ, cheese, sesame seeds, thahini, nuts, bacon, fax seeds, edamame and so on.
Here we list some foods that should be avoided when there is high creatinine level, you can email to kidneycares@hotmail.com right now to get it.