A Dietary Treatment Helps Lower High BUN Level
2013-03-13 14:00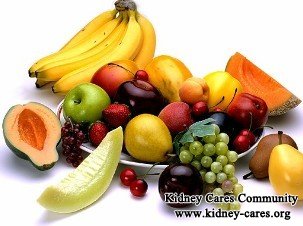 Is there a dietary treatment help lower high BUN level? So many people are eager to find out a healthy diet to help lower high blood urea nitrogen, because high BUN is an alarm of kidney damage. Reducing elevated BUN is able to remit patients' condition. Here, you can get an overall understanding of this dietary treatment.
1. Limit the intake of high-purine foods
Blood urea nitrogen is made when protein is broken down in the body. High-purine food can produce more urea nitrogen, so patients with high BUN should limit the intake of these foods. Animal giblets, sea food, meat, lentil, peanut, spinach, etc, all can contribute to high-purine foods. Therefore, the person with high blood urea nitrogen had better avoid them.
2. Eat more fruits that can help protect kidney function
Researches have revealed that fruits rich in vitamins especially vitamin C are able to help protect kidney function. Here, we recommend three fruits: cranberry, pomegranate and kiwi fruit. Through improving the kidney filtering rate and protecting kidney function, more urea nitrogen will be removed from the body.
3. Consume more base-forming food
Some vegetables can help alkalize urine and reduce the side effects of high blood urea nitrogen. Chinese cabbage, radish, carrots, potatoes, etc, are all conducive for lowering high blood urea nitrogen, so these foods are recommended for these patients.
4. Quit alcohol especially beer but drink enough water
Quitting alcohol is very essential for patients with kidney damage or high urea nitrogen, because it will increase the workload on the kidney. However, if the patients can still urinate normally, 2000-3000ml of water one daily can help discharge more waste productions including urea nitrogen from the body.
5. Take moderate protein
Protein is an obbligato substance that the body needs, but too much protein will worsen patients' condition. Taking moderate protein is very necessary. Generally, a glass of milk, one egg white and 0.6g of lean meat is enough to meet these patients' protein need.
Now, we have known that a general dietary treatment helps lower high BUN level, but the detailed diet is different for individual. If you are suffering from high blood urine nitrogen, you had better consult the experts online to make a diet which is suitable for you.
Our Treatment Effect
High creatinine level is dangerous to a kidney patient
Move the mouse to enlarge the picture
If you also want to reduce your high creatinine level, please look at this patient's report. When he was just hospitalized in our hospital on Dec 11, 2018,
His creatinine:1028umol/L,
urea: 39.7mmol/L
UA : 513umol/L
After a period of our treatment,
his creatinine:331umol/L, urea:16.1mmol/L
UA :325umol/L on Jan 5, 2019.
His condition was getting better and better. You can also get better.
For a CKD patient, you can choose Chinese medicine treatments to control your condition. your creatinine level can be reduced radically, symptoms can be alleviated and more importantly, your renal function will be improved. In this way, you can stay away from end stage kidney disease and avoid dialysis.