Diets To Lower High Creatinine Levels In CKD
2013-03-13 11:36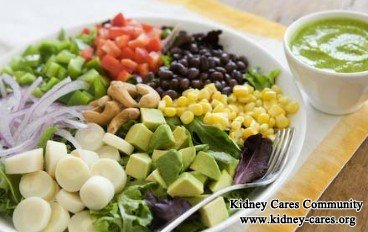 Many people consult the proper diets that can lower high creatinine levels. Some of them are sure that they have CKD (chronic kidney disease) and some do not know what caused the elevated creatinine. If creatinine level is persistently high, it usually means that kidney functions are damaged especially if patients have years' hypertension or diabetes. The excessive creatinine in the bloodstream can not be discharged and creatinine level will be high in the tests.
Generally speaking, a vegetarian diet is good for lowering high creatinine levels. Then why a vegetarian diet can reduce high levels of serum creatinine in the blood. There are several reasons.
Vegetarian diets contain more fresh vegetables and fruits and less meat products. When meats especially red meats like pork, beef are eaten, they can produce creatinine after metabolism, therefore avoid taking meats can reduce the production of creatinine.
High creatinine can be caused or worsened by dehydration. We know that fresh vegetables and fruits are usually high in moisture which can help prevent and relieve dehydration.
Most vegetables and fruits are low-protein which is very important for CKD patients with high creatinine levels. Protein metabolism can produce many wastes and add burdens to the kidneys. Low-protein diets can relieve renal strains, reduce renal damages, slow illness progression and protect residual kidney functions.
Vegetables and fruits are high in vitamins, fibers, trace elements and many other nutritions which are all necessary for repairing and revitalizing renal tissues.
Notes: if you have developed into stage 3-4 CKD or you are on the end stage and taking dialysis, some fruits and vegetables should be avoided. But there are also a lot of other vegetarian diets that are suitable and good substitutions. For more detailed diet lists for CKD with high creatinine, you can consult a renal dietitians and make a personalized diet plan according to your creatinine level and other illness conditions.
Besides, alcohol, coffee and strong tea should be avoided which can further worsen high creatinine. Fresh water is the best drink for high creatinine which can help prevent blood concentration, increase urine output so as to wash more metabolic wastes and toxins outsides including creatinine.
Get free online analysis for your illness condition here. Choose any of the following tools to start instant communication with our experts.
Leave Message
Leave your problem to us, we are here to help you with free charge!