What Causes Pain in Lower Extremities in End Stage Renal Disease
2015-06-11 11:43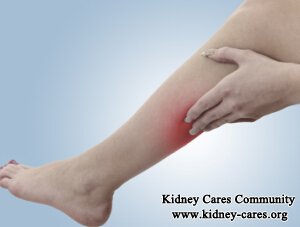 When your kidney disease develops to end stage, it will cause a lot of body malaise. Leg pain is one of them. What causes pain in lower extremities in end stage renal disease (ESRD)?
Muscle cramp
In ESRD, many factors can cause muscle cramp, such as dialysis, calcium and magnesium deficiency, acidosis, side effects of medications, etc. It can make you feel pain in lower extremities.
Bone disease
Bone disease such as osteoporosis is a common complication of kidney disease, because the damaged kidneys can not activate vitamin D to help body absorb calcium. Besides, high phosphorus level in the blood can draw calcium from the bones so as to make them fragile. With bone disease, you may have pain in lower extremities or even the whole body.
Arthritis
The damaged kidneys are not able to remove excess uric acid from the blood. Those uric acid may deposit in the joints, such as leg joints or feet joints, leading to joint inflammation.
Nerve problems
The high toxin concentration in the blood may damage the nerves, which can cause restless leg syndrome and so other symptoms to make you have leg pain.
What causes pain in lower extremities in end stage renal disease? As long as you have such a symptom, you can take the above aspects into consideration and then take corresponding measures to relieve it. If you do not want your life to be affected a lot by ESRD, you should repair the damaged kidneys to reduce the occurrence of symptoms and complications. In China, we often use Blood Pollution Therapy. This therapy can cleanse the waste products in the blood and remove stasis from the blood vessels to set up a good blood environment for kidney self-healing. It can also provide the damaged kidneys with essential nutrients, such as amino acids, trace elements and vitamins to help them recover. Your life quality will gradually be improved with the improvement of your kidney function. For more information, please contact online doctor or leave a message below.
Our Treatment Effect
High creatinine level is dangerous to a kidney patient
Move the mouse to enlarge the picture
If you also want to reduce your high creatinine level, please look at this patient's report. When he was just hospitalized in our hospital on Dec 11, 2018,
His creatinine:1028umol/L,
urea: 39.7mmol/L
UA : 513umol/L
After a period of our treatment,
his creatinine:331umol/L, urea:16.1mmol/L
UA :325umol/L on Jan 5, 2019.
His condition was getting better and better. You can also get better.
For a CKD patient, you can choose Chinese medicine treatments to control your condition. your creatinine level can be reduced radically, symptoms can be alleviated and more importantly, your renal function will be improved. In this way, you can stay away from end stage kidney disease and avoid dialysis.