Is There Any Cure For End Stage Renal Disease (ESRD)
2014-12-18 07:57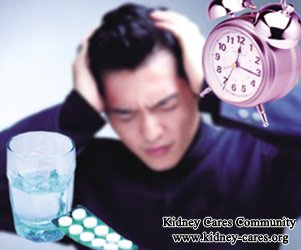 Is there any cure for end stage renal disease (ESRD)? In ESRD, the kidneys cannot work at all. At this time, patients' other organs will also present various complications. Patients in this stage are very weak. Can ESRD be cured? Is there any hope for ESRD patients?
What is End Stage Renal Disease?
End stage renal disease is also called uremia. In this stage, kidneys get serious damage. Renal fibrosis occurs and glomerular filtration rate (GFR) declines. As a result, toxins and metabolic products cannot be discharged out of the body. Thus, creatinine level rises. If illness conditions cannot get well controlled, various complications will occur. And patients will have discomforts like dizziness, headache, high blood pressure, congestive heart failure, vomiting, nausea, itchy skin and a series of discomforts. The treatment for this stage is kidney transplant, hemodialysis and conservative Chinese Medicine treatment. Patients can choose proper therapy according to their own economic status and medical conditions.
How to treat End Stage Renal Disease?
In daily life, patients should have a good rest. They should follow a salt diet, eat more fresh fruits and vegetables and supplement enough vitamins. Meanwhile, patients in ESRD should intake high quality protein like milk, egg and lean meat, etc.
We all know kidneys filter blood, during which wastes are removed and nutrition is kept in body. With ESRD, kidneys fail to work. Thus, the treatment should be effective to make kidneys to work by their own. In recent years, our experts innovate an advanced and characteristic therapy to repair injured kidneys and improve renal function. This therapy is Micro-Chinese Medicine Osmotherapy and other characteristic Chinese herbal treatment like Medicate Bath, Foot Bath, Mai Kang Mixture, Acupuncture and Cupping, etc.
With diet and effective medical treatment, there is a large chance for ESRD patients to get improved. Any question, please feel free to consult our online doctor or leave us a message to kidneycares@hotmail.com. We will provide more information to you.