How Long Can You Live with CKD Stage 5
2014-07-16 09:04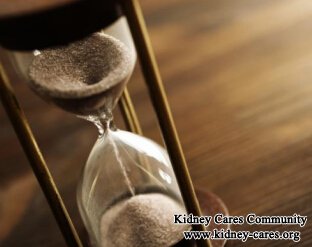 How long can you live with CKD stage 5? This question is often asked by kidney patients. But it is really difficult to answer. Because it depends on many factors, such age, gender, underlying cause, treatment, emotion, diet, physical condition, symptoms and living habits as well as other complications such as heart disease. Among these factors, some of them can not be changed, such as age and gender, but some of them can be improved with our own efforts.
Diet
You can talk with a renal dietitian to make a renal-friendly diet. If you are on dialysis, the general diet guideline is to follow a high protein, high vitamins, low fluid and low sodium diet. If you are not on dialysis, you should change the high protein intake to low protein intake.
Exercise
If your physical condition allows, you can do some gentle exercise to boost immunity, lower cholesterol level, reduce high blood pressure, improve fatigue, etc.
Emotion
Kidney patients with positive attitude live longer than the ones with pessimistic attitude. Therefore, in the daily, you should know how to reduce or remove unhealthy mood.
Living habits
You should give up smoking, drinking alcohol, staying up, eating junk food and some other bag habits.
Treatment
When you are in CKD stage 5, there are a lot of symptoms and complications. You should follow the doctor's instruction and have treatment aggressively to control these symptoms and complications. Dialysis and kidney transplant are the common treatment for CKD stage 5 patients to prolong their life. But due to their various side effects, many CKD stage 5 patients want to avoid them. And then the only way is to repair the damaged kidneys and improve kidney function. Blood Pollution Therapy may help you achieve this goal.
How long you can live with CKD stage 5 depends on yourself. If you want to live a full life, you should try to follow a healthy lifestyle and receive treatment as early as possible.