How Long Can I Live On Stage 5 CKD Without Dialysis
2014-02-25 10:53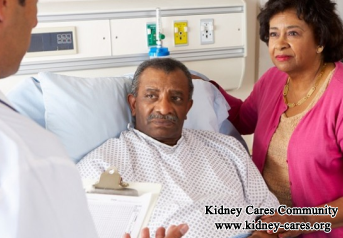 Dialysis or kidney transplant are two ways recommended by doctors to stage 5 chronic kidney disease(CKD). However, because of some factors like fees and side effects, some patients with stage 5 CKD are unwilling to take dialysis or kidney transplant. Thereby, how long can they live without dialysis becomes their most concerned question.
Actually, there is yet an exact answer to tell you how long can you live without dialysis on stage 5 chronic kidney disease. The illness conditions vary from person to person, so the life expectancy is also variable. Frankly speaking, stage 5 chronic kidney disease patients can only live several weeks or several months if they stop dialysis without other kidney replacement or repair treatment. In this case, they would like to find a good solution to prolong their life expectancy. In this sense, immunotherapy may be significance for them.
How does immunotherapy prolong their life time?
Immunotherapy is a therapy which aims to restore kidney intrinsic cells and improve kidney function. According to medical researches, it is said that kidney disease is called by lower immunity. Lower immunity will make bacteria attack your body, causing damages on many organs. Immunotherapy has six steps and each step has its own purpose. Through the six steps, wastes and immune complexes are discharged out of the body and inhibit the process of kidney damage. Finally, your damaged kidney tissues can be restored to some extend and kidney function will also be improved. As long as your kidney function is improved to over 15%, you have a chance of avoiding dialysis or delaying dialysis. With a higher level of kidney function, patients' life expectancy can be prolonged largely without dialysis.
It is very hard for us to give you an exact answer to tell you how long can you live without dialysis. We can only tell you no matter what treatment you take,only if your kidney function is improved, you can live a relatively healthy and normal life.