Is It Safe to Take Potassium Supplement with Stage 4 Kidney Failure
2015-01-28 16:48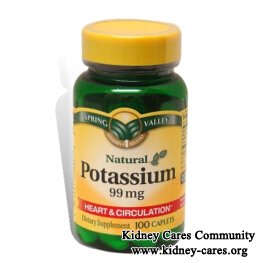 Stage 4 Kidney Failure means your kidneys have been impaired severely and you may have to prepare for dialysis or kidney transplant. Is it safe to take potassium supplement with stage 4 kidney failure?
Potassium and body function
Potassium is an important element in body. It keeps your heart beating and maintains fluid, electrolyte and pH balance in body. Besides, it promotes muscle growth, and sustains a healthy nervous system and brain function. Moreover, it allows your muscles to move easily and lets your brain send nerve impulses throughout your body and helps your kidneys filter blood.
Is it safe to take potassium supplement with stage 4 kidney failure?
As kidney function declines in stage 4 kidney failure, potassium levels in the blood may increase because it is no longer removed in sufficient amounts. In such case, you had better not take potassium supplement, because high potassium level may cause nausea, weakness, numbness, tingling, slow pulse, irregular heartbeat, heart failure, etc.
But sometimes due to malnutrition, excessive vomiting, diarrhea and taking certain medications, such as diuretics can cause potassium deficiency. Low potassium level may cause muscle weakness, heart failure, confusion, fatigue, etc. In such case, you may need to take potassium supplement. But you should keep a close attention to your potassium level. As long as your blood potassium is recovered, you should stop taking potassium supplement. Besides, you can regulate blood potassium level through food. And if potassium deficiency occurs due to diuretics, you can use potassium-sparing diuretic instead.
The fundamental way to regulate potassium level is to restore your kidney function. Micro-Chinese Medicine Osmotherapy is anti-inflammation, anti-coagulation, blood vessel dilation and extracellular matrix degradation. After a period of treatment, your kidneys regain their ability and then you won't worry about electrolyte disorder.
From the above we can see that whether it is safe to take potassium supplement with stage 4 kidney failure depends on your medical condition. If you have any question, please contact online doctor.