Can I Drink Decaf Coffee With Stage 4 Kidney Failure
2014-04-10 08:00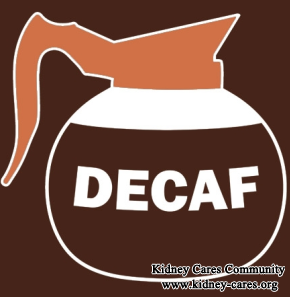 Caffeine is often the primary focus when the negative health effects of the coffee are discussed. Many health conditions that are aggravated by coffee are still affected by decaffeinated coffee, despite the lower level of coffee. This is because these other phytochemicals that remain in decaf coffee after the decaffeination process. In this regard, people with stage 4 kidney failure had better not drink decaf coffee.
And now we will tell you why kidney failure patients cannot drink decaf coffee.
1. Decaf coffee increase heart attack risk
Stage 4 kidney failure patients should try their best to reduce the risk for heart attack. However, drinking decaf coffee is able to elevate heart attack risk. Levels of LDL cholesterol, a strong predictor for heart attacks, have been proven to increase after coffee drinker begin to bring decaf coffee. The results of these studies suggest that other constituents in coffee, which are not removed in the decaffeination process, are at a higher risk for heart disease.
2. Decaffeinated coffee interferes with bone density.
Increased metabolic acidity related with drinking decaffeinated coffee interferes with healthy bone density. Excessive acidity has been associated with negative calcium balance and increased excretion of calcium. Metabolic acidity will alter bone cell function, increasing osteoclastic bone reabsorption and decreasing osteoblastic bone formation. Calcium is not only essential for preventing osteoporosis and maintaining adequate bone density, but adequate calcium is crucial for a healthy heart and nervous system. Kidney failure patients usually have bone problems, like bone pain, bone fracture and osteoporosis. In this regard, stage 4 kidney failure patients should not drink decaf coffee.
3. Decaf coffee disorders mineral absorption
Patients in stage 4 kidney failure always complains about anemia. Iron is an essential of red blood cells, and iron deficiency is a cause of anemia. Drinking coffee or decaf coffee will both reduce the ability of the body to absorb iron from food sources. In this condition, anemia in stage 4 kidney failure can be aggravated to a certain degree. In addition, decaf coffee is also to increase loss of calcium, magnesium and zinc.
In fact, decaf coffee still has other adverse effects on human body, such as raising cholesterol level, producing adverse metabolic effects and increasing plasma homocysteine levels. With these adverse effects, kidney failure patients in stage 4 should not drink decaf coffee.