What Factors Will Worsen Your Kidney Condition
2017-10-07 07:40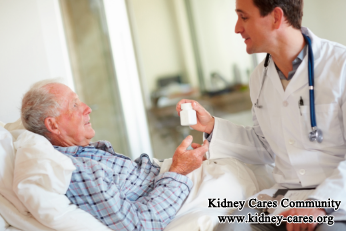 The progression of kidney disease developing into kidney failure is affected by many factors. The following are some factors. Please read it carefully and delay your progression of renal failure.
1. Avoid renal toxic drugs
Kidney function damage will affect the metabolism. Once you take some renal toxic medicines, which will cause further kidney damage.
2. Blood pressure
High blood pressure will harden your renal artery and then worsen kidney function. If you take pril or sartan medicines, your high blood pressure is still not under control. You need to take calcium antagonists. Blood pressure should be kept below 130/90mmHg.
3. Infection
Patients with declined renal function are easy to get infection due to low resistance. Infection occurs in skin, lung, urine tract. Infection will make kidney function deterioration.
4. High uric acid
Most patients suffer from high uric acid level. Without timely treatment, it will cause further kidney damage. In addition to low purine diet, you also need to take Benzbromarone and allopurinol to reduce high uric acid level.
5. Anemia
One reason of irreversible kidney disease is renal ischemia and anoxia state is not improved. If renal anemia can be relieved, treatment for kidney disease can be a little easy.
6. Urinate timely and prevent infection
There are many metabolic wastes and toxins in kidney patients' body. These wastes need to be excreted via urine. If you do not urinate timely, toxins will deposit in your body, causing infection.
Due to different pathological type, the time for kidney failure is also different. If the above factors can be controlled, kidney failure can also be delayed.
Our Treatment Effect
High creatinine level is dangerous to a kidney patient
Move the mouse to enlarge the picture
If you also want to reduce your high creatinine level, please look at this patient's report. When he was just hospitalized in our hospital on Dec 11, 2018,
His creatinine:1028umol/L,
urea: 39.7mmol/L
UA : 513umol/L
After a period of our treatment,
his creatinine:331umol/L, urea:16.1mmol/L
UA :325umol/L on Jan 5, 2019.
His condition was getting better and better. You can also get better.
For a CKD patient, you can choose Chinese medicine treatments to control your condition. your creatinine level can be reduced radically, symptoms can be alleviated and more importantly, your renal function will be improved. In this way, you can stay away from end stage kidney disease and avoid dialysis.