How To Slow Down The Progression of Kidney Disease Into Uremia
2017-07-19 03:30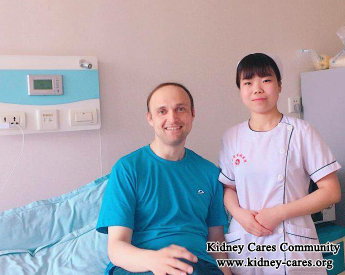 When doctors are checking patients' condition, patients always ask how long kidney disease will develop to uremia. If you can control your indexes, your condition can be controlled as well. Follow us to see some tips for the prevention of uremia.
1. Chooese high quality protein diet
Kidney patients had better not choose plant protein which will produce more metabolic wastes. This will workload your kidneys. You can intake moderate animal protein with more essential amino acid such as lean meat and fish.
2. More medicines should not be used together.
The efficacy of more medicines will offset each other while toxicity will increase. You do not have a good therapeutic effect and also you will suffer from more side effects. For example, sulfanilamide and vitamin C will cause toxins on your kidneys. In recent years, more patients suffer from kidney problem due to taking medicines. You must take medicines under the guidance of doctor.
3. Do not delay your cold treatment
When you catch a cold, there will be lots of immune complexes depositing in your body. As for patients with better physical fitness, immune complexes can be discharged out of your body effectively. However, for patients with poor physical fitness, immune complexes will deposit in your kidneys and cause damage on kidneys directly. Therefore, when you have a cold, you should take timely treatment in a standard hospital.
4. Control diabetes and high blood pressure
About 30%-40% diabetes will develop to diabetic nephropathy. A quarter of diabetic nephropathy will progress to uremia. High blood pressure can damage your kidneys directly. Severe hypertension will lead to renal ischemia and anoxia. Serious hypertension and diabetes can also lead to glomerulosclerosis and shrunk renal tubular. Finally uremia will occur. Thus, in your daily life, you should focus on your blood sugar and blood pressure. If you have both diabetes and high blood pressure, you should watch out for kidney disease.
Urine is an indicator of kidney health. Regular test for urine is an effective way for detecting kidney disease. You should pay more attention to your urine color and urine volume. This is the most intuitive method to find abnormal kidney.