5 Tips Prevent Your Kidney Disease From Relapsing
2017-06-12 08:33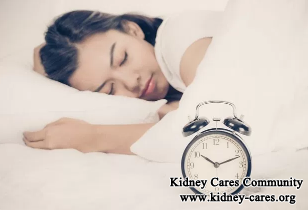 As for kidney patients, they often experience frequent relapse. This is really a bad thing. Here our doctor gives you 5 tips to prevent your kidney disease from relapsing.
1. Do not mess or stop medicines
What medicine you can take and what medicine you can not is determined by your doctor. Before taking any medicine, you should first consult your nephrologist.
2. Do not stay up late and keep a good mood
The best time of sleeping is 11pm and 3am. If you sleep after 12pm, it is called stay up late. Lack of sleep will make your renal function drop quickly and also proteinuria is easy to happen. You should keep a good mood, take good cooperation with the doctor and take medicines on time.
3. Control your salt intake
Much salt intake will worsen your condition and less salt intake will cause low sodium syndrome. The proper salt intake should not be over 6g per day.
4. Prevent infection
It is very important to reduce infection. Because infection will aggravate your kidney disease so you must consult your doctor timely. You can take proper exercise to increase your body resistance.
5. Take regular check up
When your condition is stable, you can take check up every three months like routine urine test, blood creatinine and urine protein quantity.
The above tips can prevent your kidney disease from relapse. Any question, you can leave a message below or consult our online doctor directly.