How To Protect Residual Kidney Function In Kidney Patients
2017-04-05 07:55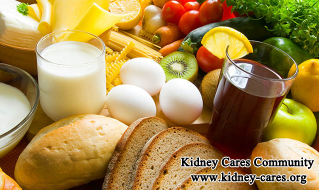 Residual kidney function refers that although your kidneys is not able to sustain your life, it still can cleanse some toxins, discharge some fluid and have function of secretion. Protecting residual renal function can reduce the progression of kidney damage.
How to protect residual renal function?
1. Reasonable protein intake
The metabolic product is mainly from protein in diet. Therefore, in order to reduce the workload on residual renal function, protein intake should be suitable to the discharging capacity of kidneys. For example, when serum creatinine level is 170-440umol/L, protein intake should be 0.6g/kg bw/day. As for patients with massive proteinuria, 1g protein leakage can be supplemented 1.5g protein. When serum creatinine level is over 440umol/L, protein intake should be reduced and protein intake had better not exceed 30g. However, do not limit protein intake too strictly so as to avoid malnutrition and decline of physical condition.
2. Consume enough calories
In order to make protein intake maximum utilization and not be comsumed by calories, low protein intake should be combined with enough calories. Per body weight requires at least 35kCal and the main source is sugar supply. Therefore, patients can eat fruits, sugar products, chocolate, jam and honey, etc.
3. Foods with phosphorus
Some foods contain high phosphorus level like yolk, pluck, dried meat floss and dairy products. Phosphorus deposition in your body can deteriorate your renal function. In order to reduce phosphorus intake, foods like fish, meat and potatoes should abandon the soup first after boiled and then cook further.
4. Sodium intake
Sodium intake should be consumed based on your specific illness condition. Patients with high blood pressure and swelling, should follow a low sodium intake. Every day sodium intake should be 2-3g.
5. Medications
Some medications can also damage your kidneys such as sulfa antibiotics, penicillin, indomethacin and contrast agents.
Besides, you need to be careful about some illness diseases like high blood pressure, diabetes and infection which can cause your kidney damage as well.