Ways to Restore Kidney Function
2016-10-30 08:14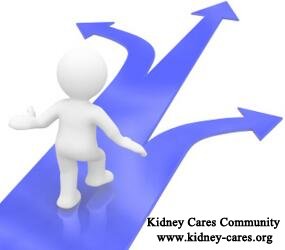 Are you kidney patients? Do you want to restore kidney function to avoid total kidney failure? Here let me introduce some ways to help you.
We are a specialized kidney disease hospital in China, and we have accumulated rich experience in treating kidney disease. To help kidney patients restore kidney function, we usually require kidney patients to do the following things.
-To follow a healthy lifestyle
With poor kidney function, you can not do whatever you like to do. For example, you have to follow a renal-friendly diet. You have to give up some bad habits like staying up. You can not take part in some strenuous activities, such as football game. All in all, you should adjust your lifestyle to healthy one. Only in this way can you protect your kidneys from being damaged further.
-To find out a treatment to repair kidney damage
In the damaged kidneys, there are usually three kinds of kidney tissues, namely intact ones, inflamed ones and scarred ones. To restore kidney function, you should protect the intact ones from being damaged and repair those inflamed ones. Conventional treatment is just to inhibit kidney inflammation rather than clear those immune complexes that trigger kidney inflammation. We usually use Chinese medicine to decompose those immune complexes and remove them out of the body. And Chinese medicine can also eliminate other waste products from body. Besides, it can help dilate blood vessels and remove stasis to improve blood circulation and increase blood flow into damaged kidneys to provide them with enough oxygen, nutrients and other essential elements to speed up kidney recovery. After about months' treatment, it is possible for you to regain some kidney function. The commonly used Chinese medicine includes Medicated Foot Bath, Medicated Full Bath, Moxibustion, Micro-Chinese Medicine Osmotherapy, etc. After practicing in our hospital, you can take those medicines home for treatment.
Hope the above ways can help you restore kidney function. Because different kidney patients have different medical conditions, you had better consult our doctors before using these therapies. And you had better send a scanned copy of your medical test report to kidneycares@hotmail.com for us to have a clear mind of your medical condition.