What Is Chinese Medicine Treatment for Kidney Dysfunction
2016-10-18 06:03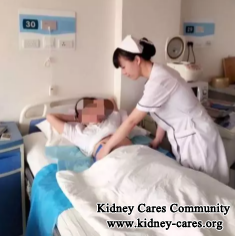 Recently our hospital accepts a foreign patient with kidney dysfunction. Because his local treatment can not treat her condition, she chooses to come to China for Chinese medicine treatments. Well then, what is Chinese medicine treatment for kidney dysfunction?
She has been suffering from kidney disease for 2 years. During this period, she has taken many medicaions but the effect is not good. Also her gastrointestinal tract is very weak. Once drinking medicine, she will have the feeling of nausea or heartburn. Through internet searching, she is attracted by our unique Chinese medicine treatments and decides to come here for a try.
Before our treatment
Her creatinine level is 380umol/L and uric acid is 579umol/L.
Kidney dysfunction is a period in kidney disease development. It belongs to the early stage of kidny failure. When serum creatinine level is higher than 133umol/L, it is kidney dysfunction. This disease is caused by damaged glomerular. When glomerular is damaged, it is unable to excrete metabolic wastes such as creatinine, electrolyte and acid-based disorder. Without effective treatment, kidney dysfunction will progress to uremia.
During our treatment
The treatment in our hospital is Toxin-Removing Treatment which purifies blood first before treating kidney disease. When kidneys are damaged, there will be lots of toxins in your blood. These toxins can reduce the effect of medication you take and also cause damage on other organs. This is the reason why you need to remove toxins out first. Toxin-Removing Treatment is a series of Chinese medicine treatments including Medicated Bath, Mai Kang Mixture, Medicinal Soup, Mai Kang Mixture, Steaming Therapy, Enema Therapy and Moxibustion Therapy, etc. Through dilating blood vessels and improving blood circulation, toxins like creatinine, uric acid and Blood Urea Nitrogen (BUN) can be removed out. This can lower down high creatinine level naturally. Besides, Chinese medicines can also prevent inflammation and coagulation, degrade extracellular matrix, provide nutrients and remove blood clots. All these can set up a clean blood environment for recovering renal function.
After our treatment
With the help of our Chinese medicine treatments, her creatinine level is reduced to 234umol/L from 380umol/L and high uric acid is reduced to 462umol/L from 579umol/L. Also her symptoms like nausea, vomiting, loss of appetite and swelling legs are all relieved radically.
If you have any question, you can leave a message below or send an email to kidneycares@hotmail.com. We will reply you as soon as possible.
Our Treatment Effect
High creatinine level is dangerous to a kidney patient
Move the mouse to enlarge the picture
If you also want to reduce your high creatinine level, please look at this patient's report. When he was just hospitalized in our hospital on Dec 11, 2018,
His creatinine:1028umol/L,
urea: 39.7mmol/L
UA : 513umol/L
After a period of our treatment,
his creatinine:331umol/L, urea:16.1mmol/L
UA :325umol/L on Jan 5, 2019.
His condition was getting better and better. You can also get better.
For a CKD patient, you can choose Chinese medicine treatments to control your condition. your creatinine level can be reduced radically, symptoms can be alleviated and more importantly, your renal function will be improved. In this way, you can stay away from end stage kidney disease and avoid dialysis.