Diet and Medical Treatment For Cleansing Your Kidneys
2016-08-17 09:27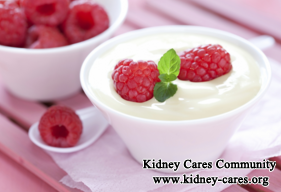 When kidneys are damaged, there will be lots of toxins retaining in your body. Toxins need to be removed from your body, otherwise, they will threaten your life. Here we recommend you diet and medical treatment for cleansing your kidneys.
1. Foods to cleanse your kidneys
Wax gourd
Wax gourd can stimulate your kidneys to increase urine volume and then remove toxins from your body.
Chinese yam
Chinese yam can increase kidney's detoxification function.
Burdock
Burdock can promote your metabolism and eliminate constipation. It can also increase blood circulation and regulate your intestinal function. Dietary fiber in burdock can discharge toxins and prevent constipation in kidney patients.
Yogurt
Yogurt can stimulate your intestinal tract and reduce the side effects of constipation. Yogurt contains lots of lactic acid bacteria which can improve constipation and stabilize your intestinal tract. Toxins in intestional tract can be easily removed from your body.
2. Medical Treatment to cleanse your kidneys
Here the medical treatment refers to Toxin-Removing Treatment which is our hospital's characteristic therapy. As its name suggests, Toxin-Removing Treatment can cleanse your blood through removing toxins from bloodstream and kidney intrinsic cells. After your blood is cleansed, it can set up a good internal environment for recovering renal function. Toxin-Removing Treatment includes a series of Chinese medicine therapies such as Medicated Bath, Medicated Foot Bath, Medicinal Soup, Mai Kang Mixture, Moxibustion Therapy, Enema Therapy and Steaming Therapy,etc. According to your specific illness condition, we will give you proper treatment. These therapies can draw out toxins from your body effectively. And then they can stimulate the self-healing ability of injured kidney tissues and improve renal function through dilating blood vessels, improving blood circulation, preventing inflammation and coagulation, degrading extracellular matrix and providing nutrients. When renal function is improved, your symptoms like blood in urine, protein in urine, swelling, nausea, vomiting, poor appetite and so on can all be relieved. Moreover, it is possible to reduce dialysis times or even help you avoid dialysis.
Only your kidneys be cleansed can you get a good therapeutic effect. If you wanna more information, you can leave a message below or send an email to kidneycares@hotmail.com. We will reply you as soon as possible.