Can Reduced Kidney Function Cause Other Problem
2015-12-20 11:04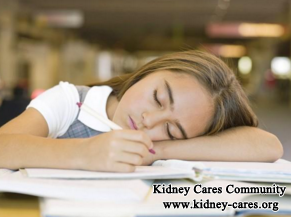 Reduced kidney function or chronic kidney disease (CKD) affects more than 20 million adults. When kidney function declines, other problems can result from reduced kidney function. If so, what other problems result from this?
1. Heart disease
Most common cause of mortality or morbidity associated with kidney failure is cardiovascular disease such as heart attack, stroke, angina, etc.
2. Anemia
Anemia is a common complication in kidney failure. Your kidneys make an important hormone called erythropoietin (EPO) which tells your body to make red blood cells. When you have kidney disease, your kidneys cannot make enough EPO. Low EPO levels cause your red blood cell count to drop and anemia to develop. One of the associated problem with anemia is easy fatigability and listlessness.
3. Infection
People with reduced kidney function are high susceptibility to infections. Renal failure is an immunocompromised condition, so the patients with failing kidneys have more risks of any infections.
4. Difficulty breath
In the severe stages of kidney failure, fluids can get accumulated and that can lead to breathing difficulties and cardiac failure.
5. Disorder of calcium and phosphorus
Diseased kidneys cannot balance calcium and phosphorus. Abnormalities in calcium and phosphate metabolism like weak bones can occur. Besides, electrolyte abnormalities are also possible in severe kidney failure.
6. Nerve symptoms
With the accumulation of more and more toxins, nerves can get affection with a series of presentations such as tingling, numbness, burning sensation, etc.
With the above complications from kidney failure, accepting treatment is very important. Western Medications can be taken to control relative symptoms but it is not enough. The symptoms can relapse once you stop or reduce the dosage of these medications because kidney damage does not be repaired. To repair kidney damage, Micro-Chinese Medicine Osmotherapy and Stem Cell Therapy are recommended. These two remedies can stimulate the self-healing ability of damaged kidney cells, rebuild kidney structure and improve kidney function. When kidney function is improved, relative symptoms can be managed from the root. Hope you can seize the chance to improve your kidney function.