Can A Renal Compromised Patient Take Ginseng
2015-07-23 03:39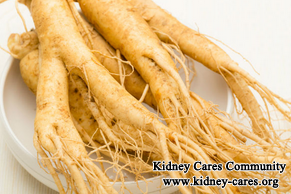 Can a renal compromised patient take ginseng? Ginseng is a traditional Chinese herb and has been used to treat a variety of health problems. Is ginseng good for kidney disease patients?
Yes, ginseng is good for kidney disease patients from the following aspects:
1. Relieve fatigue
Fatigue is a common symptom of kidney disease. The fatigue can be caused by lots of toxins in blood, reduced red blood cells and lack of oxygen. Ginseng helps improve energy levels to relieve or eliminate fatigue.
2. Treat diabetes
Diabetes is a leading cause of kidney damage. Ginseng has been used in the treatment of type II diabetes. Several studies have found that Ginseng can lower blood sugar levels in patients with diabetes.
3. Strengthen the immune system
Ginseng is used in herbal medicine to boost the body's immune system. It strengthens the immune system. With strong immunity, patients are able to fight against infection, bacteria and viruses so as to reduce further kidney damage.
4. Anti-inflammatory properties
Ginseng contains seven constituent ginsenocides which possess immune-suppressive effects. This also stops further damages on kidneys.
5. Regulate blood pressure
Kidneys have the function of keeping fluid and sodium balance and secreting renin. When they are damaged, they fail to function normally. Ginseng is one famous nourishing medicine that is able to regulate blood pressure and restore cardiac function.
Although ginseng has the above benefits, patients also need to pay attention to the dosage of this herb. If you take ginseng too much, it may cause insomnia and hypertension that may worsen patients' illness condition to some extent. If you want to take ginseng to improve your health condition,you had better consult your doctor or our online doctor firstly.
Our Treatment Effect
High creatinine level is dangerous to a kidney patient
Move the mouse to enlarge the picture
If you also want to reduce your high creatinine level, please look at this patient's report. When he was just hospitalized in our hospital on Dec 11, 2018,
His creatinine:1028umol/L,
urea: 39.7mmol/L
UA : 513umol/L
After a period of our treatment,
his creatinine:331umol/L, urea:16.1mmol/L
UA :325umol/L on Jan 5, 2019.
His condition was getting better and better. You can also get better.
For a CKD patient, you can choose Chinese medicine treatments to control your condition. your creatinine level can be reduced radically, symptoms can be alleviated and more importantly, your renal function will be improved. In this way, you can stay away from end stage kidney disease and avoid dialysis.