What Do I Do for Uric Acid if I Have CKD Stage 3
2015-06-09 16:36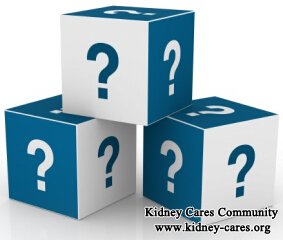 Uric acid is a chemical created when the body breaks down substances called purines. It is mainly passed out of the body by kidneys. When your kidney disease develops to stage 3, your kidneys are moderately damaged so that uric acid begins to build up in the blood. They may deposit in the joints, leading to joint inflammation, which is painful. What do I do for uric acid if I have CKD stage 3? After reading this article, you will find the answer.
Follow a reasonable diet plan
-Carbohydrate can promote the excretion of uric aid, so you can add some food high in carbohydrate into the diet, such as rice, carrot, cereal, etc.
-Limit the intake of fat, because it can reduce the excretion of uric acid
-Avoid animal pluck, seafood, nuts and some other food high in uric acid.
-Eat more fresh vegetables and fruits high in vitamin B1 and vitamin C
Drink plenty of water
If you do not have swelling, drinking plenty of water is helpful. It can flush out the excessive uric acid with urine. Generally peaking, 2000-3000 ml water intake is recommended.
Eat some medications
If your medical condition is very serious, you may have to eat some medications to block the production of uric acid, such as allopurinol. And probenecid can help your kidneys eliminate uric acid.
Repair the damaged kidneys
The fundamental way is to repair the damaged kidneys and improve kidney function. In CKD stage 3, your kidneys are not severely damaged, it is possible for you to reverse it with Traditional Chinese Medicine treatment, such as 4M treatment and 7 external therapies. They can set up a good blood environment for kidney self-healing and supply the essential nutrients to the damaged kidneys to repair themselves.
What do I do for uric acid if I have CKD stage 3? Normal uric acid levels are 2.4-6.0 mg/dL (female) and 3.4-7.0 mg/dL (male). As long as your uric acid level is high, you should pay attention. For more information, please contact online doctor or leave a message below. We are glad to help you.
Our Treatment Effect
High creatinine level is dangerous to a kidney patient
Move the mouse to enlarge the picture
If you also want to reduce your high creatinine level, please look at this patient's report. When he was just hospitalized in our hospital on Dec 11, 2018,
His creatinine:1028umol/L,
urea: 39.7mmol/L
UA : 513umol/L
After a period of our treatment,
his creatinine:331umol/L, urea:16.1mmol/L
UA :325umol/L on Jan 5, 2019.
His condition was getting better and better. You can also get better.
For a CKD patient, you can choose Chinese medicine treatments to control your condition. your creatinine level can be reduced radically, symptoms can be alleviated and more importantly, your renal function will be improved. In this way, you can stay away from end stage kidney disease and avoid dialysis.