Chinese Herbal Treatment For Kidney Disease
2015-04-02 11:01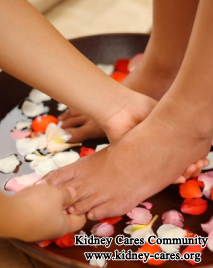 Kidneys are responsible for excreting wastes out of the body while damaged kidneys fail to discharge toxins from the body. Toxins in the body will cause lots of clinical symptoms like poor appetite, nausea, itchy skin and digestive system problems. In this condition, patients want to find a natural way to alleviate these symptoms. Chinese herbal treatment can be a natural remedy. Well, how does Chinese herbal treatment work for kidney disease?
To expel toxins from body by our Chinese medicine treatment includes "Four Ones " Therapy:
1. One bottle-Mai Kang Mixture
This medicine can increase immunity, promote blood circulation and get through the acupoint.
2. One dose-oral medicine
The key to take Chinese medicine orally is to process medicines that invigorate blood and dissolve stasis, make oral capsule or medicinal soup and take medicines orally to detoxicate phlegm stasis and damp turbidity in viscera.
3. One pot- Feet Bath
Stimulate original qi in kidney meridian and eliminate toxic pathogenic factors in kidney meridian by immersing feet into the medicinal decoction, which can act on Yongquan acupoint (KI 1) and Taixi acupoint (KI 3). This treatment of foot bath can make original qi in kidney meridian of foot-shaoyin sufficient and flow smoothly to enter kidneys and then to original qi in kidney can be restored.
4. One pair (Osmotherapy)
Micro-Chinese Medicine Osmotherapy is a new Chinese herbal medicine application which can repair injured renal inherent cells, through the method of an external applied Chinese medicine. The core technology of Micro-Chinese Medicine Osmotherapy is to make the effective herbs super-finely shattered. With the help of effective penetrant and osmosis device, the effective medicines are permeated into kidney lesions by external application, thus achieving the goal of treating kidney disease. Clinical practices have proven that this application method is both effective and convenient. The treatment mechanism of this therapy is to block kidney fibrosis, repair damaged kidney intrinsic cells and rebuild the normal kidney structure. The Chinese herbs have functions of dilating blood vessels, preventing inflammation and coagulation, preventing blood viscosity and degrading extracellular matrix. These stages are named as block repair and rebuild.
These are mainly treatments. We also combine other treatments like enema, medicated bath and circle therapy and acupuncture, etc. You can email your medical reports to kidneycares@hotmail.com. Our experts will analyze your condition and make a treatment plan for you.